Shanghai MHI Engine, JV with Shanghai Diesel Engine, Begins Mass Production
-- Target Set on Manufacturing 1,500 Diesel Engines in 500-1,600kW Class Per Year for Use in Power Generation Systems --
Tokyo, December 20, 2013 - Shanghai MHI Engine Co., Ltd., a manufacturer and marketer of diesel engines jointly established by Mitsubishi Heavy Industries, Ltd. (MHI) and Shanghai Diesel Engine Co., Ltd. (SDEC) - a major Chinese diesel engine manufacturer - has begun mass-volume production. The model launched on full scale is a diesel engine with 1,000-kilowatt (kW) class output for use in power generation systems. Plans incrementally expand a product lineup into eight models toward a cumulative production target of 1,500 units per year.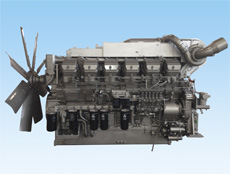 On December 20 a ceremony to commemorate the start of full-scale production was held at Shanghai MHI Engine, which is in Shanghai's Yangpu District. Attending the ceremony were: Xiao Guopu, Vice President of SAIC Motor Corporation Limited (SAIC Motor); Jiang Kai, General Manager of SDEC; and, representing MHI, Senior Vice President Yukio Kodama, who is the head of General Machinery & Special Vehicles operations. Many customers, parts suppliers, representatives of financial institutions and other stakeholders were also on hand to witness the line-off ceremony.

The model first to go into mass production at Shanghai MHI Engine is the "S12R-PTA-C," a diesel engine featuring an output of 1,190kW at 1,500 revolutions per minute (rpm) for use in power generation systems. The S12R-PTA-C will be finished into power generation systems primarily by local generation set makers, to meet industrial and other needs in the Chinese market.

Shanghai MHI Engine was established in February of this year as a fifty-fifty joint venture (JV) between MHI and SDEC. Operations got under way in March at a plant on SDEC's premises. The JV was created to manufacture and sell diesel engines with outputs in the 500-1600kW range under license from MHI, leveraging MHI's advanced technologies cultivated through production of industrial-use diesel engines and SDEC's vast networks in the Chinese market. Annual sales are initially targeted at near 10 billion yen, to increase to 20 billion yen within several years.

SDEC is a group company of SAIC Motor, China's largest automaker. It produces engines for use in automobile, construction equipment, power generation systems and marine vessels, and holds a major share in its domestic market of high-speed diesel engines with outputs of 100-500kW.

In China, as the diesel engine market continues to mark robust growth, demand is also expected to expand sharply for distributed power supplies employing environmentally compatible gas engines fueled by natural gas. Shanghai MHI Engine will aggressively pursue both of these promising markets, with full backup support from both MHI and SDEC.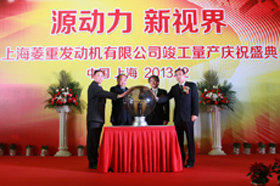 [Ceremony to commemorate mass-volume production]
---