MHI's RFID based ETC System Begins Commercial Operation in India, Helping to Ease Traffic Congestion and Preserve the Environment
Tokyo, December 3, 2013 - The electronic toll collection (ETC) system operating by radio frequency identification (RFID) equipment supplied by Mitsubishi Heavy Industries, Ltd. (MHI) began commercial operation on an expressway in India's Gujarat state. The system, involving RFID readers installed at toll plazas to detect in-vehicle adhesive RFID tags and collect tolls, will contribute to easing of traffic congestion and to preservation of the country's environment. The event marks the first supply of an RFID based ETC system to India from Japan.
MHI provided the major equipment comprising the RFID based ETC system including 30 sets of RFID readers. The equipment was ordered by KENT Intelligent Transportation Systems (India) Private Limited, an Indian toll collection system integrator. The ETC equipment provided by MHI complies with Indian national standards and communicates with the RFID tag which is distributed for the ETC operation under regulations in India. MHI delivered RFID equipment newly designed dedicated for ETC operation.

The newly inaugurated RFID based ETC system is in operation on a 95-kilometer (km) highway connecting Ahmedabad, the largest city in Gujarat, and Vadodara, the state's third-largest city, operated by IRB Infrastructure Developers Ltd, a leading road concessioner in India. It marks the country's first fully access-controlled expressway. It encompasses a total of 59 lanes at 6 tollgates, of which 28 lanes are equipped with the new RFID based ETC system.

While motorization has been making rapid progress in India in tandem with the country's steady economic growth, road infrastructure is needed to keep pace with this development. To rectify the situation, Indian governments and road concessionaires are now focusing on improving the nation's road network, and installation of the RFID based ETC system is part of that broad initiative.

MHI is a supplier of comprehensive ETC system and Intelligent Transport System (ITS). The company has an abundant track record of deliveries both at home in Japan and overseas. Gaining momentum from its introduction in India, going forward MHI aims to further strengthen its marketing activities for various ETC systems suited to the needs and conditions of each country.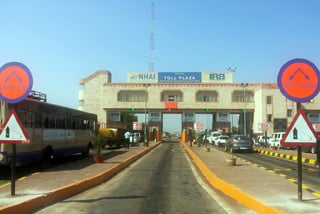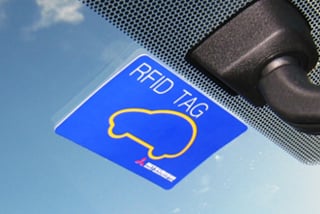 Toll gate at main road in Ahmedabad                                  RFID tag
---
About MHI Group
Mitsubishi Heavy Industries (MHI) Group is one of the world's leading industrial groups, spanning energy, smart infrastructure, industrial machinery, aerospace and defense. MHI Group combines cutting-edge technology with deep experience to deliver innovative, integrated solutions that help to realize a carbon neutral world, improve the quality of life and ensure a safer world. For more information, please visit www.mhi.com or follow our insights and stories on spectra.mhi.com.