MHI Convenes "6th Business Partners Conference"Attended by 292 Leading Suppliers
-- Event Targeted at Forming Firmly Interconnected Supply Chain To Meet Intensifying Needs of Global Competition --
Tokyo, November 29, 2013 - On November 29 Mitsubishi Heavy Industries, Ltd. (MHI) held its "6th MHI Business Partners Conference" in Tokyo, attended by 292 major business partners. The event served to confirm a solid commitment to forge a supply chain optimally responding to today's increasingly intense global competition by strengthening ties between MHI and its business partners. The participants were offered explanations of the aims behind the launch of the domain system consolidating and restructuring the various business segments, and of the initiatives being taken to expand the company's business scale and make the leap to a highly profitable company. In addition, examples were presented of how various MHI business partners have conducted joint-improvement activities.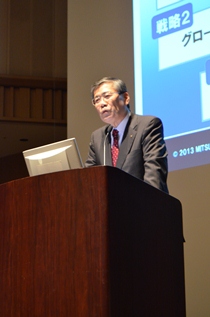 At the conference, members of MHI's top management directly spoke about the company's business plans and core strategies, its initiatives focused on technologies to support manufacturing, its procurement policy, etc. The presentations aimed at further strengthening the ties of trust between MHI and its business partners in a quest for improvements on both sides.

MHI President and CEO Shunichi Miyanaga opened the proceedings with a presentation on the company's business strategies. The focus was on the progress made to date in the current three-year Medium-Term Business Plan launched in 2012. In particular Mr. Miyanaga spoke of the new 4-domain system inaugurated in large part this October and slated for completion next April, stressing how the new system will make efficient use of management resources as a core means of manifesting the company's comprehensive capabilities. He urged all business partners to respond to this program of reforms by becoming strong business partners who undertake self-help and self-improvement, and he asked for their further understanding and cooperation.

For this sixth event in MHI's ongoing series, Society of Japanese Value Engineering (SJVE) President Ryuichi Seguchi was invited to give the keynote address. He spoke on the philosophy behind the application of value engineering (VE) to business management.

Presently MHI is pursuing the following strategies, among others, in line with its 2012 Medium-Term Business Plan: consolidation and restructuring of business segments (into four domains), acceleration of global expansion, and institution of corporate reform and efficiency improvements. As ways of reflecting these strategies in terms of procurement, the company is now pursuing expansion in global purchasing through links with Group companies and strengthening of "Cooperative Actions with Business Partners" targeting value improvement through working in collaboration with its business partners. Examples of how these activities have yielded noteworthy results were presented at the conference, along with the presentation of certificates of appreciation.

The MHI Business Partners Conferences have been held annually since 2008. Going forward MHI will continue to forge increasingly stronger relationships with its business partners and pursue higher value within its supply chain in its ongoing quest to achieve a dynamic and resilient corporate structure that will enable the company to survive and maintain an edge over its competition in today's rapidly changing business environment.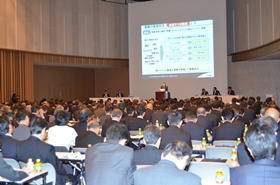 ---