MHI Launches "HYPER VSX Series" Of High-efficiency Packaged Air-conditioners
-- Featuring Individual Control of Multiple Room Units And Standard-equipped with High Value-added Functions --
Tokyo, November 25, 2013 - On November 25 Mitsubishi Heavy Industries, Ltd. (MHI) will commence domestic marketing of a newly developed series of packaged air-conditioners, the "HYPER VSX Series," equipped with the dual capability to control multiple room units simultaneously or individually. All models in the series - 30 in all - deliver outstanding efficiency complying with the new 2015 energy conservation standards.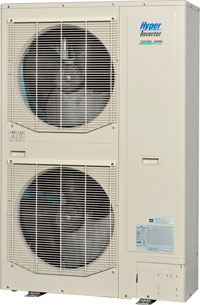 The HYPER VSX Series air-conditioners have been engineered for excellent performance enabling stable cooling during severely hot weather as well as heating during extremely cold weather. Developed with an eye on energy savings and environmental compatibility, they come standard-equipped with a variety of high value-added functions such as automatic demand-controlled selection and 2-mode, 4-level quiet operation settings. The accompanying outdoor units have been reduced in size and weight and engineered for easy pipe connections, enabling the configuration of a packaged air-conditioning system providing the same excellent ambient air control as a centralized cooling and heating system for large buildings.

The outdoor units are offered in a choice of two models: 8 or 10 horsepower (HP). The unit's circuit board allows for switching between simultaneous start and stop operations – the conventional usage mode with room units - and individually controlled starts and stops. This dual capability enables the HYPER VSX Series air-conditioners to easily accommodate, in terms of both technical aspects and costs, changes in system usage that may occur after installation: for example, changes to specific room needs resulting from remodeling of the premises, etc.

The HYPER VSX Series features three functions effective for demand-controlled operation. The functions can be activated separately or in combination, and when activated in combination the most effective system settings are selected automatically. With the demand control feature, the operating capacity of the outdoor units can be preset to any of four rated capacity levels - 80%, 60%, 40% or 0% (emergency stop) - according to the level of urgency.

With the quiet operation mode, the user can select between two modes – one prioritizing capacity; the other, quiet operation. In addition, the quiet mode itself can be adjusted to four different levels, enabling the HYPER VSX Series outdoor units to offer effective demand control while complying with the regulation standard under the Basic Environment Law stipulating that nighttime operating noise must be less than 50 decibels (dB) in commercial zones, etc.

With the peak cut timer function, setting in 5-minute increments is possible and the 4-level demand control rate (80%, 60%, 40%, 0%) can be set four times per day.

The HYPER VSX Series also offers a broader working temperature range than preceding models: cooling in environments up to 50°CDB (dry bulb temperature) instead of 43°CDB, and heating in environments down to –20°CWB (wet bulb temperature) instead of –15°CWB. This broader range has improved basic performance as an air-conditioning system. The new series's outdoor units have also been engineered for lighter weight and more compact size, with reductions respectively of near 22% and 37% compared to earlier models. In addition, refrigerant piping installation performance has been significantly improved in terms of total piping length limits, room/outdoor unit elevation limits, etc. Design innovations have also been incorporated for the power supply, enabling the realization of a packaged air-conditioner of outstanding installation performance.

Going forward MHI will continue to seek expansion of its operations in air-conditioning systems, including packaged systems and systems for building installations, through focused development of products featuring outstanding operability and energy savings in line with today's expanding market demands.
■ Main Specifications of HYPER VSX Series Packaged Air-conditioners with Individual Start/Stop Function
Outdoor unit

FDCV(S)P2244HSX

FDCV(S)P2804HSX

Capacity *1

8 HP

10 HP

APF *2

5.1

4.8

Average cooling/heating COP *3

4.03

3.39

Operating noise

Cooling 59dB
Heating 60dB

Cooling 60dB
Heating 63dB

Outdoor unit dimensions

H1,505×W970×D370mm

Outdoor unit volume

0.54m3

Outdoor unit weight

170kg

Number of connectable room units

8

Operating temperature range

Cooling -15 to 50℃DB
Heating -20 to 20℃WB
*1 With both the 8HP and 10HP models, APF and average cooling/heating COP values refer to a twin connection of two room units of the ceiling-installed, 4-way air vent type.
*2 Annual performance factor: an indicator of performance calculated by dividing the total capacity necessary to cool and heat for an entire year by the amount of energy consumed by the cooling/heating system. The higher the APF value, the higher is the level of energy efficiency.
*3 Coefficient of performance: an indicator of the energy consumption efficiency of a cooling system. The higher the COP, the higher is the level of energy efficiency. COP = rated capacity (kW) ]]/>÷
---
About MHI Group
Mitsubishi Heavy Industries (MHI) Group is one of the world's leading industrial groups, spanning energy, smart infrastructure, industrial machinery, aerospace and defense. MHI Group combines cutting-edge technology with deep experience to deliver innovative, integrated solutions that help to realize a carbon neutral world, improve the quality of life and ensure a safer world. For more information, please visit www.mhi.com or follow our insights and stories on spectra.mhi.com.