MHI Develops "SL4" Next-Generation Centralized Remote Controller for Building AC Systems, Featuring Web Server Functions and Large 9-inch Color LCD Touchscreen
Tokyo, November 5, 2013 -Mitsubishi Heavy Industries, Ltd. (MHI) has completed the development of a next-generation centralized remote controller for building air-conditioning (AC) systems. Dubbed the "SL4," the new controller incorporates web server functions and features a large 9-inch color liquid-crystal display (LCD) touchscreen. Its multi-functional capabilities and operating ease enable the SL4 not only to perform monitoring and control of individual AC units but also to manage energy savings throughout entire buildings. The new controller can be used in combination with MHI's own multi-system building AC and packaged AC units. It will go on sale November 20.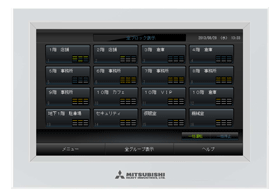 The SL4's 9-inch LCD screen indicates AC operating status using five colors (blue, red, yellow, green, gray) on a black matrix. Sharp clarity and easy visual recognition are achieved through the adoption of a white border around the touchscreen. A comprehensive overhaul of screen structure has resulted in protruding thickness of only 23 millimeters (mm), the thinnest in the industry, creating a highly stylish design.

The SL4 is standard equipped with local area network (LAN) and web server functions that enable AC units to be set, operated and monitored via computer screen, and operating data can also be downloaded. In addition, monitoring screens can be displayed on tablet devices adopting multi-touch technology.

To promote energy savings, the SL4 features a 4-step demand control function, including an emergency stop mode as the final step. The first step performs temperature setting shifts in increments of ±2°C, while the second and third steps progress to thermo-off, halting compressor operation. Another feature allows visual confirmation of the integrated value of operation time, for detailed energy management.

Going forward, MHI will continue to pursue expansion of its building AC systems and other air-conditioning equipment business, developing products that offer outstanding operating ease and efficiency to meet the market's expanding needs.
Main Specifications of the SL4

| | |
| --- | --- |
| Connectable room units | Max. 128 |
| Display/operation | Color LCD TFT 9-inch display (800 × 480 pixels) / touchscreen |
| Power supply | Single-phase AC100V / 200-240V, +10%/-15%, 50/60Hz |
| Dimensions | H172×W250×D93 (23) mm (protruding thickness) |
| Weight | 2kg |
| Ambient conditions | 0-40°C (outside cabinet), RH below 85% |
---