MHI Develops "MEGASEG," Industry's First Portable
Generator in the 2kVA Class Fueled by Propane Gas (LPG)
Tokyo, October 10, 2013 – Mitsubishi Heavy Industries, Ltd. (MHI) has completed development of the industry's first portable power generator with a 2.2 kilovolt-ampere (kVA) class small engine that operates on propane gas, otherwise known as liquefied petroleum gas (LPG). Full-scale marketing of the new product model MGC2200G, dubbed "MEGASEG," will commence in November. Because LPG can be stored over long periods without deterioration and the generator's 10-kilogram (kg) tank enables roughly 10 hours of usage of electrical equipment with outputs totaling up to 2.2kVA, MHI plans to capture demand for the MEGASEG in diverse applications; for example, as an emergency power source in line with business continuity planning (BCP) by the corporate sector or kept in reserve by local government agencies and as a portable power supply unit for outdoor events.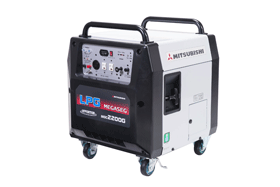 The MEGASEG measures 547 millimeters (mm) in width, 480 mm in depth and 618 mm in height, and weighs 56 kg. MHI's Meiki GB180, a gasoline engine widely used to drive various types of handheld garden machineries, is retrofitted to drive the generator on LPG.

The adoption of LPG fuel has eliminated problems conventionally associated with engines fueled by gasoline – in particular, hard engine starting and unstable operation attributable to deterioration of the fuel stored over long periods – and significantly reduced maintenance workload. Furthermore, as the LPG tank can be changed to a unit of larger size, the generator can easily accommodate long hours of continuous operation. In addition, usage can begin simply by connecting the LPG tank to the dedicated hose provided. The adoption of an inverter has resulted in stable output permitting usage for information systems and a fully covered sound-insulating structure provides quieter operation enabling the use even in urban environments. Also, the adoption of an electronically controlled throttle valve saves fuel by controlling the engine speed in precise response to the load.

In the wake of the Great East Japan Earthquake, it became widely recognized how important it is to secure emergency power sources for critical systems including information systems as a BCP measure. Sales of portable generators that are convenient and easy to use have grown robustly, and demand has risen for generators that can operate on alternate fuels that are safer than gasoline as well.

MHI has responded to these calls by developing the MEGASEG, the new generator with 2.2kVA output for which great demand had been expressed, based on its knowhow accumulated through its industry-leading 0.85kVA LPG-fueled generator launched into the market in 2002. The MEGASEG will be manufactured and marketed by Mitsubishi Heavy Industries Engine Systems Co., Ltd., a wholly owned subsidiary based in Tokyo that currently markets MHI's large gas-engine generators for emergency and continuous use. Its addition to the lineup will enable MHI to respond to a broader range of equipment needs going forward.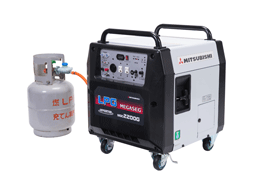 [MEGASEG「MGC2200G」]
Major Specifications of the "MEGASEG" MGC2200G
AC
Frequency
50/60Hz
Rated output
2.2kVA
Voltage
100V
Current
22A
DC
Voltage
12V
Current
8.3A
Voltage control method
Inverter
Fuel
Propane gas (LPG)
---
About MHI Group
Mitsubishi Heavy Industries (MHI) Group is one of the world's leading industrial groups, spanning energy, smart infrastructure, industrial machinery, aerospace and defense. MHI Group combines cutting-edge technology with deep experience to deliver innovative, integrated solutions that help to realize a carbon neutral world, improve the quality of life and ensure a safer world. For more information, please visit www.mhi.com or follow our insights and stories on spectra.mhi.com.