MHI and Vestas Agree to Form Joint-Venture Company
Dedicated to Offshore Wind Turbine Business
Tokyo, September 27, 2013 – Mitsubishi Heavy Industries, Ltd. (MHI) has agreed with Vestas Wind Systems A/S (Vestas), a leading manufacturer of wind power generation systems based in Denmark, to establish a new joint-venture company (JV) dedicated to business in offshore wind turbines. Plans call for the new JV to be in place before the end of March 2014. The aim of the two partners is to combine their respective strengths – MHI's outstanding reliability stemming from its comprehensive technological capabilities and Vestas' abundant track record in this field – to achieve synergy benefits that will enable the new JV to become a global leader in the offshore wind turbine market, a market expected to grow rapidly in the years ahead.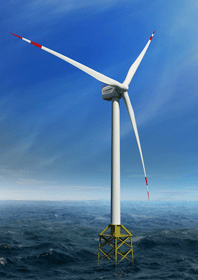 The new JV will be launched taking over and consolidating MHI's and Vestas' current operations in offshore wind turbines. From a head office to be located in Aarhus, Denmark, the company will handle all aspects from development, design, procurement and manufacturing to marketing and after-sale servicing. The two partners will have equal equity ownership ratios, with Masafumi Wani - Executive Vice President and Head of Power Systems at MHI - serving as Chairman of the Board of Directors and Jens Tommerup - President of Vestas Asia Pacific & China – filling the position of CEO. Plans call for the new JV to be inaugurated with an initial workforce of between 300 and 400 employees.

In establishing the new JV, MHI and Vestas will each provide their respective abundant technologies and expertise relating to offshore wind turbines. Plans call for MHI to make an initial investment into the JV of 100 million euros; an additional 200 million euro investment will be carried ou based on the JV's actual business results after startup, making MHI the majority shareholder (MHI: 51%, Vestas: 49%) as of 2016 through exercise of its call option.

The JV will commence business with Vestas' current 3 MW (megawatt) (V112) and 8 MW (V164) gear type wind turbines. Plans further call for an early market launch of a turbine based on the V164 platform and incorporating MHI's new hydraulic drivetrain, the world's first, known as the "Digital Displacement® Transmission" (DDT). By integrating MHI's comprehensive technological capabilities and trustworthiness cultivated through its operations in power generation plants with Vestas' abundant technologies and rich experience, the new company will aim to become a top contender in the global market for offshore wind turbines.

Vestas is presently the world leader in the onshore wind turbine market and ranks No.2 in offshore turbines. Today its systems are in operation in 73 nations, and worldwide its network encompasses roughly 17,000 employees. Since completing the construction of its first offshore wind turbine in Denmark in 1990, to date Vestas has achieved a robust track record of 581 units having a cumulative output near 1,410 MW.

MHI delivered its first wind turbine for commercial application in 1982. Since then the company has supplied more than 4,200 units worldwide with a cumulative output of approximately 4,400 MW. In the area of offshore systems, MHI is now developing a large-scale wind turbine adopting the DDT. Currently the company is also pursuing R&D of an onshore demonstration model in the United Kingdom and participating in verification testing at an offshore floating wind farm in Fukushima.

The most vibrant markets for offshore wind turbines today are the North Sea coastal countries, particularly the UK and Germany. In those two nations and all other markets, measures are being adopted to support the introduction of wind power generation systems to supersede outdated coal-fired and nuclear plants, and robust growth in this area is expected to continue going forward. In response, all leading manufacturers of wind turbines today are developing large-scale models and have launched proactive initiatives to attract orders. In Japan, demonstration projects are in progress and plans are being formulated toward introducing offshore wind turbines in coastal and harbor areas. The establishment of the JV between MHI and Vestas is aimed at capturing a hefty share of these highly promising markets.

MHI and Vestas will both work closely with the new JV and offer their full support to the development of its business operations.
---
About MHI Group
Mitsubishi Heavy Industries (MHI) Group is one of the world's leading industrial groups, spanning energy, smart infrastructure, industrial machinery, aerospace and defense. MHI Group combines cutting-edge technology with deep experience to deliver innovative, integrated solutions that help to realize a carbon neutral world, improve the quality of life and ensure a safer world. For more information, please visit www.mhi.com or follow our insights and stories on spectra.mhi.com.