MHI Achieves World's First 4,000-Hour Continuous Operation Of Pressurized SOFC-MGT Hybrid Power Generation System
Tokyo, September 20, 2013 - Mitsubishi Heavy Industries, Ltd. (MHI) has achieved 4,000 hours of uninterrupted operation - unprecedented in the world – of a 200 kilowatt (kW) class pressurized hybrid (combined-cycle) power generation system incorporating solid oxide fuel cells (SOFC) and a micro gas turbine (MGT). The company has been operating the hybrid system since March at Senju Techno Station, a facility in Tokyo operated by Tokyo Gas Co., Ltd., and it has now confirmed its stable power generation performance: generating-end output of 206 kW AC (alternating current) and 50.2% thermal efficiency (LHV*).
MHI began developing the pressurized hybrid power generation system in 2008 at its Nagasaki Shipyard & Machinery Works, working in collaboration with the New Energy and Industrial Technology Development Organization (NEDO). The first stage of power generation takes place in the SOFC module by injecting city gas as fuel to produce electricity through chemical reaction. The unreacted portion of the gas and hot air discharged from the SOFC module are then used to drive an MGT. This two-stage system achieves significantly higher power generation efficiency and, as a result, saves substantial energy. In addition, as the high-temperature exhaust gas from the MGT can be used to generate hot water and steam, the hybrid system is capable of performing combined heat and power (CHP) supply functions.

In the pressurized hybrid system, air pressurized by the MGT's compressor is supplied to SOFCs and used as oxidant; then the thermal energy and pressure of the high-temperature exhaust gas from the SOFC module are transferred to the MGT to be used, together with the unreacted portion of the gas, to produce electricity. In this system, the inherent ability of pressurized SOFCs to increase voltage significantly is effectively utilized to enhance power generation efficiency. The system has also reduced installation space requirements by half, by boosting power density through enhanced SOFC module performance and a simplified system configuration.

Tokyo Gas's Senju Techno Station, where the pressurized hybrid system was installed, also contains a facility where the utility introduces its advanced energy-related technologies to its stakeholders. The station agreed to cooperate with MHI in its continuous operating test in consideration of its function as a supplier of city gas - the fuel used in the hybrid system. The testing demonstrated stable operation even in the heavy-load summer season.

SOFCs are ceramic-based fuel cells that operate at a high temperature above 900 degrees Celsius (1,650 degrees Fahrenheit) and produce electricity directly by chemical reaction between hydrogen and carbon oxide removed from city gas and oxygen in the air. MHI has been vigorously pursuing power generation methods to reduce carbon dioxide (CO2) emissions, including high-efficiency thermal power generation systems, nuclear power systems, and renewable energies such as wind power, and it sees SOFC technology as a promising method.

MHI has been conducting joint development of the hybrid system with Toyota Motor Corporation since 2008. Toyota Turbine and Systems Inc., which markets MGTs, is a Toyota affiliate.

Based on the successful operation of the pressurized SOFC-MGT hybrid power generation system, going forward MHI now plans to conduct safety verification tests and explore the market for the system's business and industrial applications.
Note
* Lower heating value: the heat value of a combustion process excluding latent heat from vaporization of water. Higher heating value (HHV) is the gross value including such latent heat.
System Configuration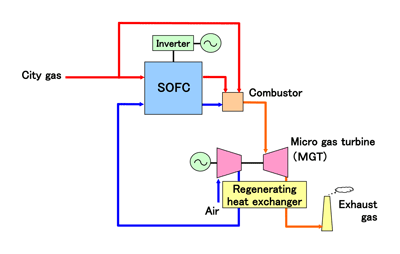 Pressurized SOFC-MGT Hybrid Power Generation System          SOFC Cartridge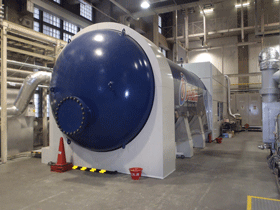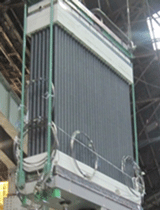 ---
About MHI Group
Mitsubishi Heavy Industries (MHI) Group is one of the world's leading industrial groups, spanning energy, smart infrastructure, industrial machinery, aerospace and defense. MHI Group combines cutting-edge technology with deep experience to deliver innovative, integrated solutions that help to realize a carbon neutral world, improve the quality of life and ensure a safer world. For more information, please visit www.mhi.com or follow our insights and stories on spectra.mhi.com.