MHI Launches Totally Upgraded "ST40A" Helical Gear Shaping Machine,Achieving Japan's First Fully NC-Programmable 7-Axis System
-- International Debut Set for Gear Expo 2013, U.S. Trade Fair Dedicated to Gear Machining Technologies --
Tokyo, September 12, 2013 - Mitsubishi Heavy Industries, Ltd. (MHI) has completed the development of a new gear shaping machine, the ST40A, capable of cutting a broad array of gears, including helical and cluster gears, with one system. The ST40A's significantly expanded range of cutting applications derives from the first application in Japan of NC programming1 technology to the relieving motion2 that prevents interference between the cutter and the workpiece. The new offering will make its international debut in the United States with a live demonstration of its capabilities at Gear Expo 2013, to take place in Indianapolis, Indiana, on September 17-19. The company intends to market the ST40A for a wide spectrum of gear cutting applications for various products including automobiles, construction machinery and aircraft.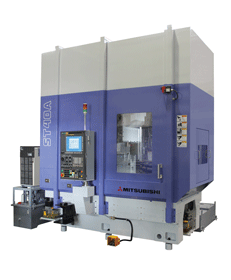 The ST40A is a totally upgraded version of the ST40, a revolutionary helical gear shaping machine requiring no helical guide3 for each workpiece - a feat achieved through the world's first application of NC technology to torsional motion during the cutting of helical gears.

The ST40A has extended the ST40's cutting flexibility even further by incorporating Japan's first NC-programmable relieving mechanism and making all seven of the machine's axes fully NC-programmable. This new capability enables the ST40A to accommodate various high-precision cutting applications such as crowning and tapering.

In addition, stroke speed has been increased by 20%, from the earlier 500 strokes per minute to 600, enabling high-speed cutting with a focus on productivity. Stroke speed when machining at lower speeds meanwhile has been reduced by 50%, from 60 strokes per minute to 30, enabling secure cutting of hard workpieces. The new machine is also capable of tapering up to 0.3 degrees without use of a tilt table. In these ways, the ST40A has been designed to fully address diverse user needs, including demand for a broader range of optional devices and functions, and enhanced operability, safety and energy savings.

Today, interest in making capital investments into gear cutting equipment capable of machining diverse high value-added gears is escalating at gear production plants around the world, especially in the United States. The trend is fueled by the need to accommodate demand for high-volume production of gears associated with the growing tendency toward employing larger numbers of transmission gears in automobiles and construction machinery, and demand for gears made from harder materials associated with increasing production of small passenger planes. The ST40A can now firmly accommodate these expanding needs.

Gear Expo, a biennial event organized by the American Gear Manufacturers Association (AGMA), is the world's largest trade fair dedicated exclusively to gear machining. It regularly attracts gear machinery manufacturers and users from all over the world, leading to brisk business negotiations. At Gear Expo 2013, MHI, in addition to the new ST40A, will also be showing its GE15A super-dry gear-hobbing machine that operates without the need for cutting oil. Both machines will be used to demonstrate how they can produce cluster gears of the kind featured in automotive transmission systems.

Today the U.S. manufacturing industry is regaining its former vigor spurred by the shale gas "revolution" and monetary relaxation. MHI aims to penetrate deeply into the U.S. market by proactively approaching manufacturers with optimal proposals integrating its diverse range of high value-added gear machines backed by the company's state-of-the-art technologies and cutting tools as well as its strengths in marketing and after-sale servicing leveraging the resources of Federal Broach Holdings, an MHI group company, and MHI's own sales bases in the U.S.
MHI Exhibits at Gear Expo 2013
* ST40A gear shaping machine (live demonstration)
* GE15A super-dry gear-hobbing machine (live demonstration)
* Broaches made by Federal Broach Holdings (acquired by MHI in April 2012)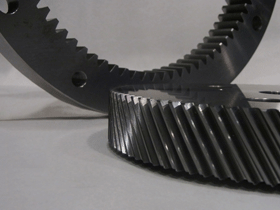 [Helical gears machined by ST40A]
Major Specifications of ST40A Gear Shaping Machine
Maximum workpiece diameter
External gear
φ400 mm
Internal gear
φ400 mm
Maximum face width of gear
115 mm
Cutter stroke (Infinity variable)*4
30 to 600 min-1
Number of stroke shift
Infinity variable
Rotary feed
2.5 to 3,200 mm/min
Number of cuts
1 to 4
Cutter spindle diameter
φ110 mm
Controlled axes*5
6 (7)
Main motor capacity (continuous rating)
30 kW
Machine mass
8,000 kg
Notes
1 Numerical control (NC) is a system for automatically controlling machining operations by inputting into an NC device numbers indicating machining information - in this case cutter and workpiece movements, cutting conditions, etc.
2 With this mechanism, as the cutter ascends it is automatically pulled away from the workpiece.
3 A helical guide is a device for providing torsional motion during helical gear cutting.
4 In actual cutting, the number of strokes is limited according to the cutter lead and stroke width.
5 The number is 7 with the optional NC relieving system.
Products Page
---
About MHI Group
Mitsubishi Heavy Industries (MHI) Group is one of the world's leading industrial groups, spanning energy, smart infrastructure, industrial machinery, aerospace and defense. MHI Group combines cutting-edge technology with deep experience to deliver innovative, integrated solutions that help to realize a carbon neutral world, improve the quality of life and ensure a safer world. For more information, please visit www.mhi.com or follow our insights and stories on spectra.mhi.com.