MHI Develops "DIASYS Netmation 4S" Control System Complying with IEC 61508 (2010) (SIL3) International Standards On Functional Safety
Mitsubishi Heavy Industries, Ltd.
TÜV SÜD Japan Ltd.
Tokyo, August 27, 2013 - Mitsubishi Heavy Industries, Ltd. (MHI) has completed development of the DIASYS Netmation 4S, a control system complying with IEC 61508 (2010) (SIL3) international functional safety standards. Developed for monitoring and control of thermal power generation plants and other facilities, the DIASYS Netmation 4S is one of only a few examples - and the first in Japan - of products to satisfy the stringent hardware and software requirements of IEC 61508 (2010) guidelines in terms of both "control and protection" functions. Certification was acquired from the third-party international testing and certification organization TÜV SÜD, based in Germany. After receiving formal recognition of the DIASYS Netmation 4S's world-leading reliability, MHI now plans to proceed toward inaugurating shipments of the new system from spring 2014.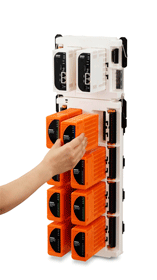 The newly developed DIASYS Netmation 4S represents the newest model in the DIASYS Series of control systems launched by MHI in the 1980s. To date more than 5,000 units of earlier models have been delivered for applications in the company's own gas and steam turbines, boilers and other power generation equipment as well as in diverse infrastructure products and industrial facilities. In earlier systems the circuitry for protecting key large-scale machines was installed separately inside a dedicated control system; but in the DIASYS Netmation 4S such circuitry can be installed together with general control circuitry, a feature that makes it possible to create arithmetic circuits involving approximately 200 different function elements. As a configuration of up to four arithmetic logical units is possible, outstanding safety, operability and ease of maintenance are achieved. A large capacity that enables processing of a maximum 90,000 input/output signals, combined with high processing speed as fast as 1 millisecond (msec), enables the DIASYS Netmation 4S to accommodate a wider range of products and machines than preceding systems.

The certification received for the new system, IEC 61508 (2010), is the second edition of standards initially introduced in 2000; it includes newly added requirements pertaining to design and development management systems, software and security.

IEC 61508 is the global standard relating to functional safety. Today its range of applications is broad, including not only plants of all kinds but also automobiles, railways, aircraft and factory automation. IEC 61508 also forms the basis of ISO 26262 automotive safety standards, etc. Under IEC 61508 guidelines, machine hardware and software reliability is evaluated according to the "SIL" (safety integrity level) index. SIL3 is the highest level of safety sought from thermal power generation, chemical, environmental and other plants.

In addition to acquiring IEC 61508 certification, the DIASYS Netmation 4S has also received IEC 62061 and EN ISO 13849 certification applied to functional safety of machines. It was also among the first systems qualifying for IEC 61131-6 certification, a new standard introduced in 2012 for the functional safety of controller units. The DIASYS Netmation 4S is the first system in the world to receive IEC 61131-6 certification in the field of power plant control systems.

Ahead of the commencement of shipments next spring, in November the DIASYS Netmation 4S will be shown at System Control Fair 2013 to be held at Tokyo Big Sight in Ariake, Tokyo.
---
About MHI Group
Mitsubishi Heavy Industries (MHI) Group is one of the world's leading industrial groups, spanning energy, smart infrastructure, industrial machinery, aerospace and defense. MHI Group combines cutting-edge technology with deep experience to deliver innovative, integrated solutions that help to realize a carbon neutral world, improve the quality of life and ensure a safer world. For more information, please visit www.mhi.com or follow our insights and stories on spectra.mhi.com.