MHI and MHI Parking Develop "Smart Parking System" Contributing to Safe and Convenient Operation of Multi-Story Garages
- Applications Increasing in Condominium Parking Facilities --
Tokyo, August 7, 2013 - Mitsubishi Heavy Industries Parking Co., Ltd. (MHI Parking), a group company of Mitsubishi Heavy Industries, Ltd. (MHI), has developed and launched marketing of the "Smart Parking System," a support tool to promote safe and convenient operation of multi-story mechanical parking garages. The system features a human-friendly universal design incorporating three core components: portable remote-control units with a user-recognition feature to prevent operation by a third party; an interactive, easy-to-see, easy-to-operate control panel; and a large display panel to show relevant information. MHI Parking is looking to attract demand for both new installations and equipment upgrades especially in condominium parking garages, to prevent accidents in multi-story parking facilities and enhance overall operating ease.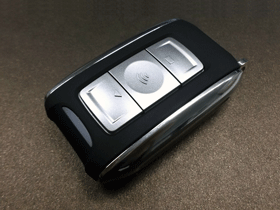 The Smart Parking System was developed jointly by MHI Parking and MHI. Development focused on designing an ergonomically superlative product equipped with user interfaces to enable easy operation by all users, with special attention paid to achieving harmony with the latest automobile and building designs. The result is a significant reduction in the "mechanical" feeling inherent with conventional parking system operations.

The new system's portable remote-control units, dubbed "Smart Authenticators," are about the same size as standard car remotes and feature a curved shape for easy handling. Using the smart remote, the driver can operate the parking system's control panel without getting down from the vehicle. During activation, operation by a third party is automatically blocked. The new remote units also eliminate the need to memorize a code number.

The touch-operated control panel operates interactively, displaying the necessary buttons and operations as they become needed. This feature enables safer and simpler operation, reducing the burden on the user. The panel features a specially devised angular design that prevents light reflections and other detractions that would otherwise impede user recognition.

The large display panel shows information concerning vehicle entry and exit, cautionary messages, etc. The panel can also be programmed to display the overall operating status of the parking garage or even advertisements. Together these features boost the user's safety when using the parking garage and provide the user with useful information concerning waiting time.

In the past few years, the market for multi-story mechanical parking garages has shifted away from primarily pay-by-the-hour parking lots to garages used by condominium residents or business tenants, a market now undergoing rapid expansion. Elevator type systems are also being adopted increasingly in high-rise condominiums. As more families and other residents come to use multi-story parking garages, effective safety measures are now being called for.

MHI Parking is currently focusing on next-generation multi-story parking facilities engineered to save energy and protect the environment. In October 2011, for example, the company commenced marketing of "Smart Lift Park," an elevator type multi-story parking garage enabling near 30% reductions in both waiting time and power usage through the incorporation of innovations such as the industry's first optimal speed control system and a proprietary regenerative electric power reutilization system. The new Smart Parking System integrates these innovations, further enhancing MHI Parking's ability to propose multi-story parking garages friendly to both humans and the environment in the years ahead.
---
About MHI Group
Mitsubishi Heavy Industries (MHI) Group is one of the world's leading industrial groups, spanning energy, smart infrastructure, industrial machinery, aerospace and defense. MHI Group combines cutting-edge technology with deep experience to deliver innovative, integrated solutions that help to realize a carbon neutral world, improve the quality of life and ensure a safer world. For more information, please visit www.mhi.com or follow our insights and stories on spectra.mhi.com.