Mitsubishi Minatomirai Industrial Museum to Host "Children's Summer Science Festival" Together with Yokohama Port Museum
- Diverse Program of Enjoyable Learning Events Scheduled -
Tokyo, July 4, 2013 - From July 20 (Sat) through September 1 (Sun) the Mitsubishi Minatomirai Industrial Museum, established by Mitsubishi Heavy Industries, Ltd. (MHI) in Yokohama in 1994, will host a "Children's Summer Science Festival," including a "stamp rally" and numerous video presentations. As a special event, for the second year in a row a collaborative exhibition program will be held together with the nearby Yokohama Port Museum, site of the sail training ship NIPPON MARU, inviting visitors to become "deep sea experts." Conducted with cooperation from the Japan Agency for Marine-Earth Science and Technology (JAMSTEC), the exhibitions at the two museums will offer visitors of all ages an opportunity to learn enjoyably about the ocean's depths and its unusual life forms.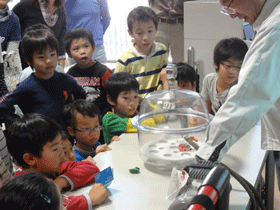 As its part in this joint program, the Mitsubishi Minatomirai Industrial Museum will devote its "Minatomirai Oceanic Research Center" in the Ocean Zone to exhibits highlighting the technologies involved in Japan's Shinkai 6500 manned submersible research vessel, the Urashima deep-sea cruising probe, and the Chikyu riser drilling vessel. Exhibits will provide an introduction to the valuable data and specimens collected by these deep-sea vessels.

A series of events will also be held in tandem with the festival. On August 31 (Sat) a "Deep Sea Paper Craft Class" will teach participants to create paper models of deep-sea creatures such as manta rays while watching video presentations. (For further details, please visit the Museum website.)
At the Yokohama Port Museum (http://www.nippon-maru.or.jp 

), in addition to an exhibition of the NIPPON MARU sail training ship visitors will be offered an introduction to the deep-sea wonders found in Sagami Bay.
The "Children's Summer Science Festival" is an annual program, coinciding with Japan's school summer holidays, created to offer children an opportunity to experience the fun of science and enjoyment of manufacturing firsthand. The video presentations about science, which give introductions to how rockets and airplanes fly, are an especially popular attraction. Other events include a quiz rally in the Environment/Energy Zone – in which the participants hunt for key words hidden in the exhibits – and strolls with wakamaru, a communication robot developed by MHI.
On August 10 (Sat) and 11 (Sun) an aerospace event, "Cosmic College 2013," will take place with support from the Japan Aerospace Exploration Agency (JAXA). Separate programs will be offered to younger and older elementary school students in which they can learn how things fly by crafting kites, birds and hovercrafts out of styrene paper. (Advance application required: please visit the Museum website for details.)
The Mitsubishi Minatomirai Industrial Museum was opened by MHI in Yokohama in June 1994 to promote exchanges with the local community and to foster interest in science and technology. The museum uses actual machinery and equipment, scale models, video presentations and explanatory panels to present easy-to-understand introductions to MHI's state-of-the-art technologies and products. Exhibits are divided into six zones: Environment/Energy, Aerospace, Ocean, Transportation, Daily Life Discovery and Technology Quest. The museum welcomed its 2 millionth visitor in October 2012 and will mark its 20th anniversary in June 2014.
Outline of Mitsubishi Minatomirai Industrial Museum
Location:         Mitsubishijuko Yokohama Building, 3-1, Minatomirai 3-chome, Nishi-ku, Yokohama 220-8401
Telephone:       +81-45-200-7351
Fax:                 +81-45-200-9902
Website:           http://www.mhi.co.jp/en/museum/
Mobile site:       http://museum.mobile.mhi.co.jp
Access:            3-minute walk from Minatomirai Station on the Minatomirai Subway Line;
                       8-minute walk from Sakuragicho Station on the JR Negishi Line or Yokohama Subway Line
Open hours:     10:00 a.m. to 5:00 p.m. (admission until 4:30 p.m.) 
Closed days:    Mondays (Tuesday, when Monday is a national holiday)
Special closing days: September 9 (Mon) through 13 (Fri)
Admission fee: 500 yen for adults 
                      300 yen for junior and senior high school students 
                      200 yen for elementary school students 
                      100 yen discount per person for groups of 20 or more people 
                      Admission is free for elementary school,
                      junior and senior high school and university field trip visits,
                      provided a reservation is made at least three days in advance of the visit.

---
About MHI Group
Mitsubishi Heavy Industries (MHI) Group is one of the world's leading industrial groups, spanning energy, smart infrastructure, industrial machinery, aerospace and defense. MHI Group combines cutting-edge technology with deep experience to deliver innovative, integrated solutions that help to realize a carbon neutral world, improve the quality of life and ensure a safer world. For more information, please visit www.mhi.com or follow our insights and stories on spectra.mhi.com.