MHI to Exhibit Machine Tools at "EASTPO 2013" in Shanghai,Targeting Sales Expansion in East China Region
- Demonstration of Gear Machining by Dry-cut Gear Shaping Machine -
Tokyo July 1, 2013 - Mitsubishi Heavy Industries, Ltd. (MHI) will exhibit its machine tools at "EASTPO 2013," the 15th Shanghai International Machine Tool Fair to be held in Shanghai, China, for four days from July 2 through 5. The MHI exhibit will feature a live demonstration of gear machining by a fully "dry-cut" gear shaping machine that the company began to manufacture at its local machine tool plant in Changshu, Jiangsu Province, this spring. As dry-cut machines do not require the use of any cutting oil, they help to facilitate cleaner working environments and are also energy-saving. This will be the first occasion for MHI to introduce its locally produced gear shaping machine at an EASTPO event.
MHI Exhibit:
-

Live machining demonstration of the "SE25A" dry-cut gear shaping machine

-

Panel presentation of the "MVR Series" double-column, 5-face milling machines, together with actual mold samples machined

-

Display of cutting tools for gear machining and machined sample workpieces
SE25A Gear Shaping Machine
The SE25A is capable of high-speed, high-precision machining of up to 250 millimeter diameter gear workpieces of complex shape, such as stepped gears, by reciprocal motion of the cutters. Its dry-cut machining system, which MHI was first in the world to develop (in 1997), results in the SE25A producing no oil mist or waste oil in the machining process. Dry-cut machining thus helps to improve the working environment and also boosts ease of machine maintenance, and it further enables significant energy savings and enhanced economic performance. When combined with modularized peripheral equipment and a material transfer system, even higher productivity is achievable through production line automation.
Aims of MHI's EASTPO Exhibits
Through its exhibits at EASTPO events, MHI aims to demonstrate its capability to provide high-speed, high-performance, technologically advanced machines of top quality – systems that simultaneously enhance environmental and economic performance – as expeditiously, and with the same business conditions, as local companies, by producing at its plant in Changshu. This year's exhibit is to focus on the company's SE25A gear shaping machine; last year a gear hobbing machine produced at the plant was shown. At EASTPO, MHI primarily targets manufacturers in eastern China – especially Shanghai and Jiangsu and Zhejiang Provinces – in a quest to expand sales. In addition to demonstrating its SE25A gear shaping machine, the company will also present its capability to provide solutions through its comprehensive lineup of machine tools meeting diverse customer needs, not only in the area of gear machining but also in the production of workpieces of all varieties.
"EASTPO 2013": the 15th Shanghai International Machine Tool Fair
EASTPO, which has taken place annually since 1999, is the second-largest machine tool fair in China after the China International Machine Tool Show (CIMT), an event held every second year since the first fair in Beijing in 1989. EASTPO typically attracts numerous visitors from the automobile, construction machinery and industrial machinery industries, which are clustered in eastern China. This year's EASTPO will take place at the Shanghai New International Expo Center (SNIEC).
General Background
China is the world's largest machine tool market, and in tandem with the country's strong economic growth robust capital investment is expected to continue going forward. Eastern China is a core market for MHI's machine tools as local manufacturers today are keenly interested in high-efficiency production of gears and machine parts, including production automation, due to increasing labor costs and other factors. MHI launched its machine tool plant in Changshu and began local production of gear hobbing machines in the spring of 2011. The company has subsequently expanded its production portfolio at the plant to include double-column, 5-face milling machines and gear shaping machines.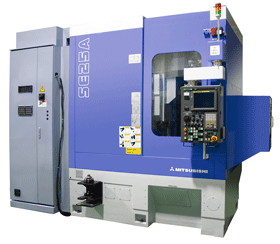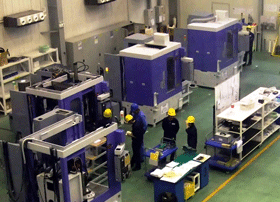 ["SE25A" dry-cut gear shaping machine]        [Gear machine production at the plant in Changshu] 
Products Page
---
About MHI Group
Mitsubishi Heavy Industries (MHI) Group is one of the world's leading industrial groups, spanning energy, smart infrastructure, industrial machinery, aerospace and defense. MHI Group combines cutting-edge technology with deep experience to deliver innovative, integrated solutions that help to realize a carbon neutral world, improve the quality of life and ensure a safer world. For more information, please visit www.mhi.com or follow our insights and stories on spectra.mhi.com.