MHI to Exhibit Products and Technology Based on CSR Action Guidelines at "Smart Community Japan 2013"
- An Exploration of Solution-Oriented Business Model Needs -
Tokyo, May 27, 2013 - Mitsubishi Heavy Industries, Ltd. (MHI) will exhibit products and technologies related to "Smart Community" fields such as energy, environment and transportation at the "Smart Community Japan 2013" exhibition to be held at Tokyo Big Sight from May 29 through 31. The MHI exhibit is being planned and organized according to the company's CSR (corporate social responsibility) Action Guidelines and will seek to explore emerging solution-oriented business model needs. The goal of the exhibit is to promote active communication with visitors by presenting a timeline for the realization of full-scale smart communities, and the challenges to be faced along the way. By engaging in a dialogue on these subjects, MHI aims to identify opportunities for solution-oriented business development that draw on a combination of products and technologies.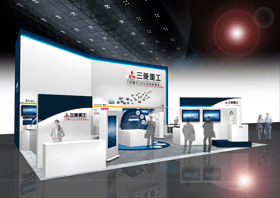 The MHI exhibit will focus on three major development themes: "Energy and Environment," "Transportation," and "Visualization." The technologies and products to be exhibited will reflect the "MHI Environmental Vision 2030" formulated in 2012, based on the company's CSR Action Guidelines, which aim to realize a sustainable future through achievement of the "3E's" - energy security, environmental protection and economic growth.

MHI will exhibit not only technologies and products already available, but also a timeline and potential development challenges for those yet to be commercialized. By proposing a combination of new technologies and new solutions to be enabled by emerging technologies, the exhibit and interactive presentations are designed to stimulate visitors to explore challenges and solutions aimed at achieving a sustainable, earth-friendly, and affluent society.

As an example, the "Energy and Environment" zone will present information about the development of basic technologies for a triple-combined cycle power generation system that integrally uses solid oxide fuel cells (SOFC) and a gas turbine combined cycle (GTCC) power generation system to achieve outstanding 70% power generation efficiency in the future. In addition, the "Visualization" zone will present information about systems to support energy-savings in the operation of machine tools and other industrial equipment, as well as actual systems based on a simplified version of "DIASYS Netmation," a proven IT system for remote monitoring of power generation plant operations. The "Visualization" zone will also feature a camera system that utilizes satellite-based radiation-detection technology to monitor the distribution of radioactive materials.

Interest in smart community related technologies has been increasing not only among central and local government personnel who are directly involved in urban development, but also among small- and medium-size manufacturers and service providers. Through its exhibits at Smart Community Japan 2013, MHI seeks to promote interest and awareness of visitors from various sectors, and to proactively explore potential needs aimed at the realization of smart communities.
---
About MHI Group
Mitsubishi Heavy Industries (MHI) Group is one of the world's leading industrial groups, spanning energy, smart infrastructure, industrial machinery, aerospace and defense. MHI Group combines cutting-edge technology with deep experience to deliver innovative, integrated solutions that help to realize a carbon neutral world, improve the quality of life and ensure a safer world. For more information, please visit www.mhi.com or follow our insights and stories on spectra.mhi.com.