Mitsubishi Heavy Industries and Mitsubishi Corporation Receive Order for Design, Manufacture, Installation and Commissioning of Singapore Light Rapid Transit Capacity Expansion
-- Vehicles and Electrical and Mechanical Systems for Sengkang and Punggol LRT Systems (C810A) --
Tokyo, May 22, 2013 - Mitsubishi Heavy Industries, Ltd. ("MHI"), in collaboration with Mitsubishi Corporation ("MC"), has received an order from the Land Transport Authority ("LTA") of Singapore, for the design, manufacture, installation and commissioning of the capacity expansion of the existing Sengkang and Punggol lines that serve new residential areas in the northeast side of Singapore. The contract is valued at 12 billion yen, and work is expected to be completed by 2016.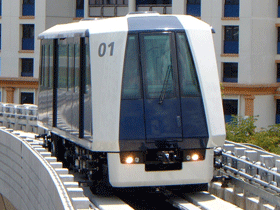 The existing Sengkang and Punggol Automated People Mover (APM) systems were supplied by MHI and MC, who were awarded the contract by the LTA in 1998. The fully automated, driverless, rubber-tired systems travel a distance of 22km and were inaugurated in 2003 (Sengkang line) and in 2005 (Punggol line) as feeder lines connecting the North East Line stations with the Sengkang and Punggol residential areas. The increasing daily usage of the system has resulted in significant growth in system ridership, which has prompted the necessary capacity expansion.

The new order includes: 1) supplying 16 newly manufactured cars (with each vehicle comprising 2-cars), 2) modification of 16 of the 41 existing cars for two-car vehicle operation, and 3) upgrading the signaling and power supply systems. As a result of the capacity expansion, the System will gain increased operational flexibility by allowing for vehicle configurations comprising either single car or two cars trains, rather than limiting the system to only single car train configurations. MHI and MC will be responsible for the design, supply, installation, testing and commissioning of the cars, signaling, and electrical systems. Modifications and upgrades to the existing systems, as well as testing and commissioning activities, will be performed during off peak hours.

The Sengkang and Punggol lines were the first application of MHI's fully automated, driverless, rubber-tired "Crystal Mover" APM system for an urban transportation application outside of Japan. This repeat order is further evidence of the exceptionally high operational performance, safety, and reliability of the Crystal Mover technology.

This reputation for excellence is recognized internationally, as MHI has supplied several APM systems for major airport and urban applications, worldwide, including APM systems at Changi International Airport (Singapore), Incheon International Airport (South Korea), Hong Kong International Airport (ROC), Dubai International Airport (UAE), Hartsfield-Jackson Atlanta International Airport (USA), Washington Dulles International Airport (USA), and two separate systems at Miami International Airport (USA).

Further upgrades to existing lines and expansion of transportation capacity are under development at numerous projects on a global scale, and MHI remains at the forefront of supplying reliable, safe, and innovative transportation systems that will continue to drive the worldwide market and contribute to a more sustainable future.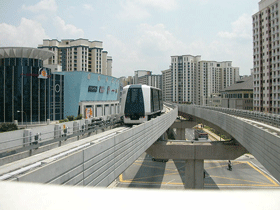 ---