Servicing of MHI Lathes Transferred to Sanpo Seiki Co., Ltd.
-- Outstanding Service Capacity Maintained to Respond to All User Needs --
Tokyo, May 9, 2013 - On May 1 Mitsubishi Heavy Industries, Ltd. (MHI) concluded an agreement under which after-sale servicing of the company's lathes, which went out of production in 1996, has been wholly transferred to Sanpo Seiki Co., Ltd., a Yokohama-based provider of machine tool modification and maintenance services. The transfer, which includes specification drawings, is aimed at maintaining a high level of services, including performance enhancement, to users of lathes that were manufactured by MHI.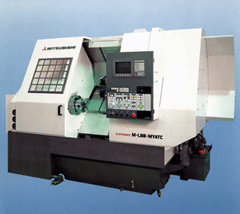 Sanpo Seiki has engaged in a broad portfolio of services since its founding in 1954. Services include overhauling (disassembly, inspection and repair) of machine tools, retrofit conversion of machine tools to numerical control (NC) specifications, and the development of related jigs and tools, industrial robots, etc. The company's staff, numbering more than 60, possesses outstanding technical and servicing skills that together have given Sanpo Seiki an abundant track record in responding to the needs of users of a wide range of machine tools of both domestic and overseas origin. In particular, for MHI Sanpo Seiki has long played an important role as a valued partner that has performed installation and after-sale servicing of its machine tools.

MHI launched production of lathes in 1939. In the postwar era, the company's lathes contributed significantly to Japan's industrial development throughout the nation's high economic growth phase. Especially noteworthy were the "Mitsubishi Oerlikon lathes," a lineup of truly revolutionary products acclaimed for their outstanding precision, high-speed cutting capability and response to automation needs. MHI also led the industry in developing an NC lathe: the "HL-580N" completed in 1968. In the years thereafter, the company gradually expanded its marketing and service networks, leading up to the introduction in 1985 of the "MALC Series" of computerized numerical control (CNC) lathes. The series garnered acclaim particularly for its thermal displacement compensation, provided as a standard feature, and for its automatic programming system. Offered in a wide array of models, the MALC Series became a bestselling lineup.

After MHI terminated all lathe production, personnel with expert skills in this area have gradually grown older and fewer in number. This situation created a problem as to how to maintain proper after-sale servicing functions. Now, with the transfer of related duties to Sanpo Seiki, a system has been put in place that will enable continuation of outstanding after-sale services to users of lathes that were manufactured by MHI.
* Note: Effective from this date, requests for servicing of MHI lathes should be directed to:
Sanpo Seiki Co., Ltd.
405 Maioka-cho, Totsuka-ku, Yokohama 244-0813
Sales Department (Sales Section)
TEL: +81-45-822-3561
FAX: +81-45-824-0151
http://www.sanpo-seiki.com

(English site under construction)
Models serviced: HL Series, MALC Series, M-L Series, M-T Series, S/T Series

---
About MHI Group
Mitsubishi Heavy Industries (MHI) Group is one of the world's leading industrial groups, spanning energy, smart infrastructure, industrial machinery, aerospace and defense. MHI Group combines cutting-edge technology with deep experience to deliver innovative, integrated solutions that help to realize a carbon neutral world, improve the quality of life and ensure a safer world. For more information, please visit www.mhi.com or follow our insights and stories on spectra.mhi.com.