Tokyo, May 8, 2013 - Mitsubishi Heavy Industries, Ltd. (MHI) is poised to accelerate its involvement in a nuclear power plant (NPP) project being forwarded in Turkey following Japan's recent acquisition of preferential negotiating rights.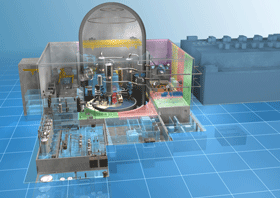 During an official visit to Turkey on May 3 Japanese Prime Minister Shinzo Abe met with Turkish Prime Minister, Recep Tayyip Erdogan, to discuss the Sinop NPP project. Out of this meeting the two governments agreed to cooperate in promoting the project and developing related industries.

Designated for adoption under the Sinop project is the "ATMEA1," a state-of-the-art reactor developed by ATMEA, a Paris-based joint venture of MHI and France's AREVA established in 2007. Plans call for the construction of an NPP in the Black Sea province of Sinop, to be equipped with four reactors having a combined capacity of 4,400 MWe (megawatts electrical). Work will be performed by an international consortium that will include, in addition to MHI, Japan's ITOCHU Corporation, France's GDF SUEZ and the Turkish Electricity Generation Company Incorporated (EUAS). Inauguration of the NPP's first unit is targeted at 2023, when Turkey will celebrate its centennial anniversary as a republic.

The ATMEA1 is a Generation III+ type* pressurized water reactor (PWR) featuring a capacity in the 1,100 MWe class. As a PWR representing the pinnacle of the technological achievements of both MHI and AREVA, the supremely reliable ATMEA1 delivers performance that has been verified by a track record of 130 units constructed to date by the two companies combined. The ATMEA1 has also been favorably assessed by the French Nuclear Safety Authority (ASN).

MHI will commit the full complement of its resources to this epoch-making undertaking, a project that is garnering significant attention worldwide and is destined to turn a new page in the history of the nuclear power industry. Leveraging Japan's superlative technologies and expertise, MHI will provide Turkey with the newest technologies developed with foremost priority on matters of safety, to enable the company to make broad-based contributions to the development of Turkey's economy and industries.

Negotiations toward adopting the ATMEA1 are presently under way in more than 10 countries worldwide, including Jordan and Brazil. Now, with its adoption in Turkey, MHI plans to accelerate global developments further in a quest to expand business in this sphere.
* Note: The state of the art in nuclear reactors, Generation III+ units are defined as NPPs being inaugurated roughly between 2010 and 2030, offering further improvements in safety, economy, etc. NPPs currently in operation worldwide primarily belong to Generation II, reactors that were inaugurated between the 1960s and 1990s.
Products Page
---