MHI to License Flue-gas Desulfurization Technologies to BHEL,
India's Largest Heavy Electricals Manufacturer
-- Unprecedented Move into this Indian Market by a Japanese Company --
Tokyo, April 4, 2013 - On April 3 Mitsubishi Heavy Industries, Ltd. (MHI) concluded an agreement with Bharat Heavy Electricals Ltd. (BHEL), a state-owned heavy electrical equipment manufacturer based in New Delhi, India, under which MHI will license its flue-gas desulfurization technologies to BHEL. The licensing agreement covers MHI's EPC (engineering, procurement and construction) technologies for limestone/gypsum-based and seawater-based flue-gas desulfurization systems for coal-fired boilers used in power generation applications and for industrial boilers. The event marks the first time a Japanese company is to provide flue-gas desulfurization technologies to a licensee in India.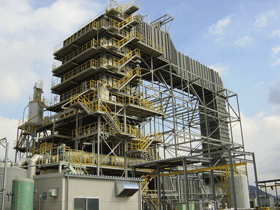 Flue-gas desulfurization systems clean the flue gas emitted during the combustion of coal and other fuels by removing the sulfur dioxide (SOx) contained in such gas. MHI's desulfurization technology is distinguished by the adoption of a liquid column tower that improves the efficiency of contact between the flue gas and the absorption liquid, resulting in outstanding SOx absorption performance*.

BHEL has been eager to introduce advanced desulfurization technologies ahead of India's anticipated tightening of the country's environmental regulations going forward, in order to secure a leading position within this market. Meanwhile MHI has been looking to secure a foothold into the Indian market, where rapid growth in desulfurization equipment is expected. The aims of the two companies have thus meshed in the conclusion of the licensing agreement.

In India, today more than 60 percent of the country's electric power, approximately 100 gigawatts (GW), is produced by firing coal. But in tandem with economic development, in its 12th Five Year Plan (2012 - 17) India plans to introduce additional coal-fired power plants to generate some 80GW more. Presently the country's SOx regulations have not come fully into force and installations of flue-gas desulfurization equipment are limited. However, as India's air pollution problems are becoming increasingly serious, moves toward tightening the nation's environmental regulations are under way, and demand for flue-gas desulfurization equipment is expected to expand.

BHEL is India's largest heavy electrical equipment manufacturer, with 14 factories in its domestic network. The company's business portfolio spans from the manufacture and supply of such diverse equipment and facilities as boilers, steam turbines, gas turbines, hydraulic turbines, power generators and power transmission facilities, to construction of power plants on a full-turnkey basis. BHEL enjoys an overwhelming share in its domestic market for thermal power generation equipment. It also has a favorable relationship with MHI, as illustrated by MHI's licensing in 2007 of technology relating to the various pumps used in thermal power plants.

MHI first achieved commercial viability of a process for treating flue gas emitted by thermal power plants back in 1972. Since then, the company has amassed a track record of more than 220 deliveries of its flue-gas desulfurization equipment worldwide.

By licensing its technologies to BHEL under the new agreement, MHI looks to strengthen its ability to respond to India's market needs and, going forward, to expand its business in the quickly growing Indian flue-gas desulfurization equipment market all the more aggressively.
* Note: In the liquid column tower method, limestone slurry is sprayed upward from the lower area of an absorption tower. Twice - on ascending and again on descending – the slurry liquid makes contact with the flue gas, causing a reaction whereby the SO2 content is removed. In addition to featuring a simpler structure than conventional systems, this method enables outstanding SO2 removal performance.

Products Page
---
About MHI Group
Mitsubishi Heavy Industries (MHI) Group is one of the world's leading industrial groups, spanning energy, smart infrastructure, industrial machinery, aerospace and defense. MHI Group combines cutting-edge technology with deep experience to deliver innovative, integrated solutions that help to realize a carbon neutral world, improve the quality of life and ensure a safer world. For more information, please visit www.mhi.com or follow our insights and stories on spectra.mhi.com.