MHI Ships 13 Diesel Engine Power Generators to Myanmar
-- First Large-scale Emergency Grant Aid from the Japanese Government
Since Establishment of New Civil Administration --
Tokyo, March 22, 2013 - Mitsubishi Heavy Industries, Ltd. (MHI) has shipped 13 sets of power generation systems operated by diesel engine to the Yangon City Electricity Supply Board (YESB) of Myanmar. The generators are being provided as part of emergency grant aid from the Japanese government in response to Myanmar's current power crisis. The event marks the first large-scale aid of its kind provided by Japan to Myanmar since the establishment of a civil administration in that country in 2011. All 13 units will be installed at the Thar Kay Ta Thermal Power Plant in Yangon, the country's largest city. The 13 generators collectively have a power generation capacity of approx. 13,000 kilowatts (kW).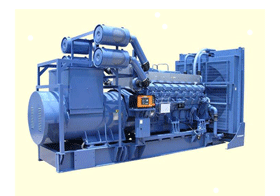 Each generator features a large output of 1,250 kilovolt amperes (kVA) (1,000kW power generation capacity) within a compactly designed configuration. Mitsubishi Corporation and Bank of Tokyo-Mitsubishi UFJ also cooperated in implementing the grant.

Myanmar, in particular Yangon, which is the country's largest energy consumption area, has been suffering severe energy shortages due to the aging of existing power generation facilities and limited power supply capacity from hydraulic power generation during the dry season. Last year, at the request for support from the Myanmar government for assistance in the form of power generation systems, the Japanese government decided to provide emergency grant aid to the country. MHI has been discussing the specifics with YESB since last summer.

Today demand for MHI's diesel engine power generator systems is rapidly increasing, centering on emergency power generation applications in the wake of the Great East Japan Earthquake of March 2011. In addition, use of these systems in the Japanese government's overseas aid provisions is also on the rise, as illustrated by a grant of four units of 500kW generators to the government of the Republic of Palau in May last year.

Going forward MHI, as a company with operations of global scope, will continue to apply its various business activities to making solid contributions to environmental protection, disaster relief, aid to emerging and developing countries, and the solution of global issues.
---
About MHI Group
Mitsubishi Heavy Industries (MHI) Group is one of the world's leading industrial groups, spanning energy, smart infrastructure, industrial machinery, aerospace and defense. MHI Group combines cutting-edge technology with deep experience to deliver innovative, integrated solutions that help to realize a carbon neutral world, improve the quality of life and ensure a safer world. For more information, please visit www.mhi.com or follow our insights and stories on spectra.mhi.com.