MHI and Institute of National Colleges of Technology, Japan (KOSEN)
Conclude Comprehensive Partnership Agreement
Aimed at Cultivating and Strengthening Young Human Resource
To Underpin Japan's Manufacturing Industry of Tomorrow
Tokyo, March 21, 2013 - Mitsubishi Heavy Industries, Ltd. (MHI) and the Institute of National Colleges of Technology, Japan (KOSEN) have concluded a comprehensive partnership agreement targeted at contributing to academic advancement and the development of industrial technology in Japan. Through proactive implementation of internship programs, mutual dispatches of instructors, joint research and other cooperative initiatives, MHI and KOSEN aim to develop and strengthen the capabilities of young human resources to be involved in manufacturing.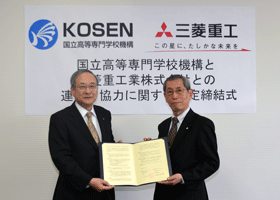 The newly concluded comprehensive partnership agreement encompasses four areas of cooperation: promotion of overseas internships, strengthening and promotion of domestic internships, mutual dispatches of instructors, and promotion of joint research. Under the overseas internship program, each year MHI will accept KOSEN students at its overseas bases, on-site project offices, etc. Plans call for the program to get under way this summer at a chemical plant construction site. Implementation of the other three areas of cooperation will also commence as early as feasible, with details to be worked out through discussions between both partners to the agreement.

Japan's manufacturing industry, which forms the underlying base of the nation's economy, today faces serious difficulties developing and securing engineers for tomorrow's needs at a time when the birthrate is falling, society as a whole is aging, and young students are increasingly shying away from studying science and engineering. Against this backdrop, this year KOSEN is marking its 50th anniversary in operation as an institution of higher education dedicated to fostering the development of practical and creative engineers through a five-year integrated educational curriculum starting from age 15.

Already KOSEN has garnered notable attention from outside Japan, as illustrated by its inclusion in a survey report issued by an inquiry commission of the Organisation for Economic Co-operation and Development (OECD), and its presence is growing steadily. Currently, in conjunction with its celebration of 50 years in operation, KOSEN is now seeking to evolve into an organization more responsive to globalization trends as it pursues diverse activities designed to enhance its unique position even further.

MHI meanwhile, as part of its guidelines for action in carrying out its corporate social responsibilities (CSR), has declared its intent to contribute to the development of the next generation of young people active in manufacturing. Through company-organized classes in manufacturing and science, visits to its factories open to students, dispatch of employees to give talks away from company premises and other initiatives of these kinds, MHI is undertaking a diversified program of activities that contribute to society with the ultimate aim of raising awareness of and interest in manufacturing among today's youth.

It was these mutually complementary fundamental concepts embraced by KOSEN and MHI that led to realization of their newly concluded partnership agreement. Going forward, both partners will progressively seek to deepen their academic/industrial relationship as their way of proactively cultivating and supporting engineers to underpin the manufacturing base of tomorrow.
---
About MHI Group
Mitsubishi Heavy Industries (MHI) Group is one of the world's leading industrial groups, spanning energy, smart infrastructure, industrial machinery, aerospace and defense. MHI Group combines cutting-edge technology with deep experience to deliver innovative, integrated solutions that help to realize a carbon neutral world, improve the quality of life and ensure a safer world. For more information, please visit www.mhi.com or follow our insights and stories on spectra.mhi.com.