MHI's "Vero4DRT," Japan's First Radiation Therapy Equipment with Dynamic Tracking System, Begins Treatment of Liver Cancer at Kyoto University Hospital
Tokyo, March 12, 2013 - The "Vero4DRT," highly advanced radiation therapy equipment with a dynamic tracking system developed by Mitsubishi Heavy Industries, Ltd. (MHI), has begun radiotherapy for liver cancer at Kyoto University Hospital in Kyoto, complementing its earlier application for treatment of lung cancer. MHI developed the Vero4DRT under the product name "MHI-TM2000 Linear Accelerator." Based on more than one year of positive results using the Vero4DRT in treatment of lung cancer, the hospital now also expects significant effectiveness in real-time dynamic tracking and irradiation of liver cancer, in which exact positioning of the tumor is considered difficult. It launched liver cancer radiotherapy using the Vero4DRT on March 1, an event that marks Japan's first application of dynamically tracked irradiation for liver cancer with real-time monitoring.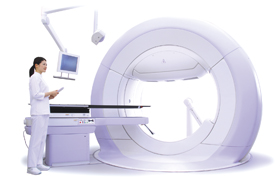 In radiotherapy cancer treatment, it is important to deliver the radiation beams to the tumor with exact precision, in order to minimize adverse effects on normal cells in the surrounding region. However, because the position of a tumor constantly shifts inside the body due to respiration, irradiation while monitoring tumor movement in real time has posed a great challenge. With the highly advanced Vero4DRT's real-time dynamic irradiation system, tracking can be performed with high accuracy, enabling precise, uninterrupted X-ray irradiation of the targeted tumor. As such, it minimizes side effects that may occur in normal cells while also significantly reducing the burdens on both the patient and medical staff.

When radiotherapy is applied for internal organs, sometimes the irradiation system must accommodate implanted markers, which vary from organ to organ. Expanded use of the Vero4DRT for treating liver cancer has become possible because the system accommodates new markers approved in Japan. Studies are now under way toward further application of the Vero4DRT to treat pancreatic cancer, which is considered even more difficult.

MHI developed the Vero4DRT with support from two projects carried out under the auspices of the New Energy and Industrial Technology Development Organization (NEDO). One project promotes research and development of basic technologies, while the other promotes the development of commercially viable next-generation strategic technologies. Kyoto University and the Institute of Biomedical Research and Innovation (IBRI) cooperated with MHI in the medical aspects of system development.

MHI entered the medical equipment field on full scale after obtaining approval for manufacturing and marketing the MHI-TM2000 from the Japanese Ministry of Health, Labor and Welfare in January 2008. Authorization of this machine, renamed the Vero4DRT, and its dynamic tracking irradiation system was received in 2010. Since then MHI has aggressively conducted related marketing activities both within Japan and abroad. Going forward the company will further strengthen these activities in a quest to expand this area of business, and it expects the number of hospitals and institutions to adopt the new radiotherapy method will increase progressively as more advanced medical treatments become increasingly common.
---
About MHI Group
Mitsubishi Heavy Industries (MHI) Group is one of the world's leading industrial groups, spanning energy, smart infrastructure, industrial machinery, aerospace and defense. MHI Group combines cutting-edge technology with deep experience to deliver innovative, integrated solutions that help to realize a carbon neutral world, improve the quality of life and ensure a safer world. For more information, please visit www.mhi.com or follow our insights and stories on spectra.mhi.com.