MHI Receives "Environmental Business Award" for
CO2 Recovery Plant
In "eco japan cup 2012," Environmental Business Contest
Tokyo, February 25, 2013 – Mitsubishi Heavy Industries, Ltd. (MHI) has received an "Environmental Business Award" in the eco japan cup 2012 for its innovative carbon dioxide (CO2) recovery plant. The eco japan cup is an environmental business contest sponsored primarily by Environmental Business Women, a general incorporated association, and the Ministry of the Environment. MHI was cited for its sustained initiatives in technological enhancement in this area and its track record in promoting related technology, as well as for the effectiveness of its carbon capture and storage (CCS) technology toward curbing global warming.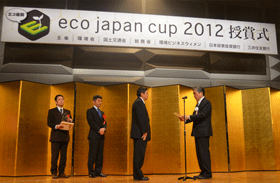 MHI's CO2 capture technology employs a high-performance chemical absorption method utilizing the absorption solvent "KS-1™", which was jointly developed by MHI and Kansai Electric Power Co., Inc. MHI's technology results in the consumption of significantly less energy than other recovery methods. Since 1999 MHI has delivered 10 CO2 recovery plants for chemical plant applications worldwide to capture CO2 from the flue gas of boilers fired by natural gas or fuel oil, and one other plant is currently under construction. This track record places MHI as the leader in commercial applications of CO2 recovery plants.

In CCS applications, MHI has built a CO2 capture plant on a scale of 500 metric tons per day (mtpd), jointly with Southern Company, a major U.S. electric utility, at Plant Barry coal-fired power generation plant in the U.S. state of Alabama. The CCS demonstration for coal-fired flue gas is being conducted at this plant since June 2011. MHI has also been participating in various CCS projects around the world, including the technology qualification program of a 3,400 t/d CO2 capture plant for a gas-fired combined heat and power (CHP) plant in Norway. The company is thus now in a solid position to accommodate construction of commercial-scale plants to capture CO2 from the flue gas of thermal power plants.

The eco japan cup is an annual event launched in 2006 to promote ecologically friendly economic activities by cultivating and supporting new ecological businesses, sponsored by Environmental Business Women, the Ministry of the Environment, the Ministry of Land, Infrastructure, Transport and Tourism, the Ministry of Internal Affairs and Communications, the Development Bank of Japan and Sumitomo Mitsui Banking Corporation. Awards are presented in a number of categories including business, culture, lifestyle and policy. In 2012, the seventh year since the contest was introduced, a total of 40 awards were bestowed. MHI was one of two recipients of the year's Environmental Business Award, which recognizes ecological products and business operations that can be expected to make major contributions to society.

Environmental Business Women is a nongovernmental organization established in 2007. It evolved out of informal talks by female entrepreneurs who created businesses engaged in environmental pursuits; those discussions were launched in 2004 upon the suggestion of Yuriko Koike, who was then Minister of the Environment in Charge of Global Environmental Problems.

Encouraged by its receipt of the eco japan cup award, MHI now aims to pursue further advances in CO2 capture technology and contribute to global efforts to prevent global warming.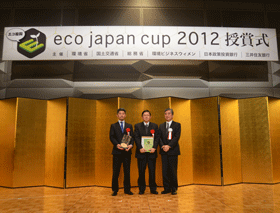 [eco japan cup 2012 award ceremony]
 
Products Page
---
About MHI Group
Mitsubishi Heavy Industries (MHI) Group is one of the world's leading industrial groups, spanning energy, smart infrastructure, industrial machinery, aerospace and defense. MHI Group combines cutting-edge technology with deep experience to deliver innovative, integrated solutions that help to realize a carbon neutral world, improve the quality of life and ensure a safer world. For more information, please visit www.mhi.com or follow our insights and stories on spectra.mhi.com.