Mitsubishi Minatomirai Industrial Museum Undergoes Total Renovation of Environment/Energy Zone
- Detailed Introductions to Diverse Power Generation Methods -
Tokyo, January 30, 2013 – On February 24 the Environment/Energy Zone of the Mitsubishi Minatomirai Industrial Museum, established by Mitsubishi Heavy Industries, Ltd. (MHI) in Yokohama in 1994, will reopen following a complete renovation of its exhibits. Organized under the theme of "energy diversity," the newly refurbished zone will feature actual exhibits, scale models and video presentations introducing MHI's various power generation methods. Visitors will be introduced to the company's outstandingly energy-efficient and environment-friendly technologies, state-of-the-art examples of how renewable energy resources are being used, an overview of the global energy picture, and explanations of how the world's energy resources are distributed. In its revamped format, the new Environment/Energy Zone will give both adults and children an enjoyable and easy-to-understand introduction to the various energies that support our convenient lifestyles.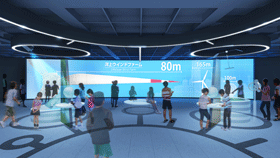 The newly reconfigured zone will be divided into seven areas respectively referring to a specific type of power generation: nuclear, thermal, wind, geothermal, hydro, solar and rechargeable lithium-ion batteries to store power generated. Each of the six power generation system areas will be equipped with a globe that shows information about its specific energy resource, such as volcanic belts, wind conditions map and location of major power generation plants, giving the visitor a global overview of its situation.

The nuclear power area will use videos and scale models to explain the main features of the company's pressurized water reactors (PWR) and safety measures in an easily understandable manner. The thermal power generation area will feature one of the company's gas turbine combustors and turbine blades. Among the technologies introduced here will be gas turbine combined cycle (GTCC), integrated coal gasification combined cycle (IGCC), triple combined cycle (an extremely efficient system integrating GTCC and fuel cells), and carbon capture and storage technology.

The wind power area will display part of a blade featured on a 2.4 MW (megawatts) wind turbines, of the kind installed offshore from Choshi City in Chiba Prefecture. The exhibition is designed to facilitate visitors' understanding about wind power generation mechanism. The geothermal area will focus on anticorrosion technologies to protect turbines and other machines from steam containing corrosive substances. In the area, impure substances in the hot water will also be displayed. At the hydro power area, the mechanism of pumped-storage power generation will be presented. The solar power area will demonstrate how power is generated from solar light and heat, including space photovoltaic power generation. The lithium-ion battery area will introduce examples of the latest uses of these rechargeable power sources.

The new Environment/Energy Zone will be equipped with a large-size screen measuring 14 meters (m) across and 2.5m high that will dynamically present the zone's advanced technologies. Among its features will be photographs and computer graphics showing MHI's highly efficient gas turbines, wind turbine blades 80m long installed at offshore wind farms, etc. One unique feature will be the ability to insert visitors' faces captured by cameras in the power generation areas into the onscreen presentation, to arouse even greater interest, with having fun, in energy and the technologies that produce it.

The Mitsubishi Minatomirai Industrial Museum was opened by MHI in Yokohama in June 1994 to promote exchanges with the local community and to foster interest in science and technology. The Museum uses actual machinery and equipment, scale models, video presentations and explanatory panels to present easy-to-understand introductions to MHI's state-of-the-art scientific technologies and products. Exhibits are divided into six zones: Environment/Energy, Aerospace, Ocean, Transportation, Daily Life Discovery and Technology Quest. The Museum welcomed its 2 millionth visitor in October 2012 and will mark the 20th year in June 2014.
Outline of Mitsubishi Minatomirai Industrial Museum
Location:Mitsubishijuko Yokohama Building, 3-1, Minatomirai 3-chome,Nishi-ku, 
Yokohama-shi, 220-8401
Telephone:+81-45-200-7351
Fax:+81-45-200-9902
Website:http://www.mhi.co.jp/en/museum/
Mobile site:http://museum.mobile.mhi.co.jp
Access:3-minute walk from Minatomirai Station on the Minatomirai Line, 
8-minute walk from Sakuragicho Station on the JR Negishi Line or
Yokohama Subway Line
Open hours: From 10:00 a.m. to 5:00 p.m. (admission until 4:30 p.m.) 
Closed Days: Every Monday (following day if Monday is a national holiday) ,
Specially designated closed days (from February 12 through 23, 2013)
Admission Fee:300 yen for adults,
200 yen for junior and senior high school students,
100 yen for elementary school students,
100 yen discount per person for groups of 10 or more people 
Admission is free for elementary school, junior and
senior high school and university field trip visits, 
provided a reservation is made at least three days in advance of the visit.
---
About MHI Group
Mitsubishi Heavy Industries (MHI) Group is one of the world's leading industrial groups, spanning energy, smart infrastructure, industrial machinery, aerospace and defense. MHI Group combines cutting-edge technology with deep experience to deliver innovative, integrated solutions that help to realize a carbon neutral world, improve the quality of life and ensure a safer world. For more information, please visit www.mhi.com or follow our insights and stories on spectra.mhi.com.