MHI Ships Composite-material Wing Box for 100th Boeing 787
-- Measures Being Taken to Increase In-house Production Rate --
Tokyo, December 19, 2012 - Mitsubishi Heavy Industries, Ltd. (MHI) today shipped a composite-material wing box for the 100th Boeing 787 Dreamliner, the next-generation super-efficient mid-size airplane, from the Oye Plant of its Nagoya Aerospace Systems Works in Nagoya, Aichi Prefecture. MHI has achieved this milestone in a span of five-and-a-half years since shipment of the first unit in May 2007. The momentous wing box will be transported by ship from the pier adjoining the plant to Central Japan International Airport (Centrair), from which it will be flown to Boeing's Charleston Plant in South Carolina by Dreamlifter, a special cargo airplane dedicated to transporting 787 components.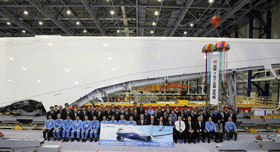 To commemorate the shipment, a ceremony was held on December 18th at the Oye Plant attended by numerous concerned parties. These included Jack Jones, Vice President of Boeing Company, George Maffeo, President of Boeing Japan , and Yoichi Kujirai, Executive Vice President of MHI.

The Boeing 787 is the first airliner to adopt composite-material wings. The composite material used for the wing boxes is carbon fiber reinforced plastic (CFRP). CFRP is superior in strength, rigidity and corrosive resistance compared with conventional aluminum or titanium alloys. According to Boeing, lighter airframes enabled by the adoption of composite material, in combination with newly developed engines and an airplane design that achieves minimal drag based on today's most advanced aerodynamics, have enabled 20% improvement in fuel efficiency and superior environmental performance.

In reflection of these outstanding features, demand for the Boeing 787 has been increasing stably, and as a result MHI has been called on to expand its production of composite-material wing boxes. In response the company has installed a second unit of the world's largest-class autoclave, which is used to bake and cure composite-material to form wing boxes; the first unit has been in operation since 2006. MHI has also been endeavoring to increase its production rate through measures including the introduction of automatic riveters enabling further enhancement of productivity.

In tandem with its pursuit of higher productivity going forward, MHI plans to use the shipment of the wing box for the 100th 787 as a springboard toward establishing unrivaled technological expertise in the design and manufacture of large-size composite-material wing boxes, as one way of contributing to the development of new airframes for tomorrow's aerospace field.
---