MHI Develops "MEISTeR " Disaster Recovery Support Robot
With 2 Arms Enabling Light-duty Work Tasks
-- Broad Versatility for Carrying, Drilling and Valve Opening/Closing
Through Attachment Tool Changes --
Tokyo, December 12, 2012 - Mitsubishi Heavy Industries, Ltd. (MHI) has developed a prototype of the "MEISTeR (Maintenance Equipment Integrated System of Telecontrol Robot)," a two-armed robot to assist recovery work after disasters or severe accidents by performing light-duty tasks in areas inaccessible by humans. By changing its arms' attachment tools, the robot can perform various tasks such as carrying objects, drilling and opening/closing of valves. Going forward MHI will strive for further improvements and explore demand for broad applications of the robot in crisis management.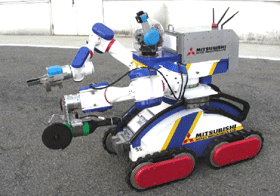 The MEISTeR was developed based on the RaBOT (Radiation-proof Robot) delivered by MHI to the Japan Atomic Energy Agency (Japan Atomic Energy Research Institute at that time) as one of several nuclear hazard response robots developed in the wake of the criticality accident at the nuclear fuel processing facility in Tokai-mura, Ibaraki, in 1999. MHI incorporated further improvements into the MARS-D, the RaBOT's sister robot, leveraging technology cultivated in the development of inspection and information gathering robots for the nuclear power facility. The MEISTeR was developed to be capable for undertaking work at the Fukushima Daiichi Nuclear Power Stations operated by Tokyo Electric Power Company. The MEISTeR provides enhanced radiation protection, including anti-contamination measures, as well as improved remote control capability.

The MEISTeR's arms can perform free movements similar to those of human arms using its 7-axis control system, and various tools can be attached to the arm ends according to the work required. By attaching different tools to each arm, the robot can undertake two different tasks simultaneously: for example, grasp an object with one arm while performing another task, such as cutting, with the other. Each arm can carry objects weighing up to 15kg.

MHI has already developed drills, clamps and other dedicated tools for specimen sampling. The company has also verified the robot's ability to collect core samples 70mm in length from concrete walls or floors to examine their contamination level. In measuring or decontamination work at radiation-contaminated sites, robot operators can remotely control the robot from a location safe from irradiation risk, monitoring and confirming the robot's movements via images sent from multiple cameras installed on the robot.

Besides its disaster support functions involving monitoring, inspection, and collection of information and samples, the MEISTeR's versatility also enables such varied tasks as moving of obstacles, decontaminating walls and floors, cutting guardrails and pipes, and light repair work.

MHI has been engaged in the development of disaster prevention support robots, mainly for nuclear power stations, since 2000. Its achievements have attracted the attention and interest of crisis management personnel in diverse fields, including representatives of both the central and local governments as well as private companies.

Going forward, in addition to promoting its potential utilization at the Fukushima Nuclear Power Stations, MHI will continue to develop more advanced tools to enable new functions, in a quest to expand the possible application areas of the MEISTeR not only in Japan but around the world.
  [General specification of MEISTeR]

| | |
| --- | --- |
| Dimension | length:1,250mm, width:700mm, height:1,300mm |
| Weight | 440kg |
| Moving system | Using 4 crawlers |
| Moving speed | 2km per hour |
| Travelling performance | This robot can climb up to 40-degree angle slopes and steps with up to a 220mm gap. |
| Communication | Wired and wireless. |
| Electric  source | Wired and buttery (go for 2 hours on a single charge) |
| Robot arms | Double arms with 7-axis control system. Each arm can carry objects weighing up to 15kg. |
---
About MHI Group
Mitsubishi Heavy Industries (MHI) Group is one of the world's leading industrial groups, spanning energy, smart infrastructure, industrial machinery, aerospace and defense. MHI Group combines cutting-edge technology with deep experience to deliver innovative, integrated solutions that help to realize a carbon neutral world, improve the quality of life and ensure a safer world. For more information, please visit www.mhi.com or follow our insights and stories on spectra.mhi.com.