MHI Marks Cumulative Shipments of 10,000 Gear Machines
-- Milestone Achieved 50 Years after First Shipment of Gear Hobbing Machine --
Tokyo, November 1, 2012 - Today Mitsubishi Heavy Industries, Ltd. (MHI) will ship an "SE15A" dry-cut gear shaping machine from its Ritto Machinery Works in Shiga Prefecture to Nakamura Gear & Machinery Corporation, a company dedicated to gear production. With this event the company marks a milestone of 10,000 units in cumulative shipments of gear machines since its first shipment of a gear hobbing machine 50 years ago, in 1962. MHI's gear machines have consistently been highly evaluated in the global market for their superlative machining accuracy and expansive lineup meeting diverse needs from rough cutting to finishing of a wide variety of gears. Going forward MHI will continue to develop this business aggressively, vying for the world's top spot in gear machine manufacture.
The SE15A belongs to MHI's "E series" of gear machines introduced in 2004. Like the complementary GE series of dry-cut hobbing machines, FE series of gear shaving machines and ZE series of gear grinding machines, the SE series of dry-cut gear shaping machines is one of the company's best-selling machines. The SE series is widely acclaimed for its excellent machining performance, user friendliness, and environmental compatibility enabled by innovative dry-cut gear machining system that eliminates the need for cutting oil. The SE15A delivered to Nakamura Gear & Machinery will be employed to produce a variety of gears, including small-size precision gears, for use in automotive and electronic devices and applications in other industries.
MHI entered the gear machine business with the manufacture of gear hobbing machines, a feat achieved through introduction of related technology from West Germany. The company then proceeded to full domestic production of gear shaping machines, gear shaving machines (used for finishing) and gear grinding machines, in tandem with development of optimal cutting tools for those machines.
In 1980 MHI developed Japan's first numerically controlled (NC) hobbing machine, followed by the world's first dry-cut gear machining system in 1997. In 2009 the company developed the "ZI20A," an internally toothed ring gear grinding machine incorporating the company's proprietary barrel-shaped multi-threaded grinding wheel, which enables high-speed machining of internally toothed gears - a task long considered very difficult. In 2011 MHI commercialized innovative new machining technology for the ZI20A, whereby one machine can perform high-speed, high-precision machining of diverse gear types, including internally toothed gears, externally toothed stepped gears and pinion gears with shafts. In these ways MHI has steadily brought production innovation to gear machining shops worldwide.
MHI achieved world-class status in deliveries of gear machines through its dual strengths in gear machines and precision cutting tools – a stance that has enabled the company to provide total solutions in gear manufacturing systems, including servicing. Cumulative shipments reached 5,000 units in 1996, i.e. 34 years after the launch of this business. Reaching the 10,000 unit mark required less than half that time – 16 years – a clear indication of the company's steady acceleration in both order receipts and production.
Of the 10,000 units shipped to date, the Japanese domestic market accounts for the largest share of deliveries: approximately 6,600 units. This is followed by the U.S. market (approx. 1,200), India and Southeast Asia (1,000), China (550), Korea and Taiwan (500), and Europe (150). The vast majority of these machines are used for machining of gears for the automobile, construction machinery and industrial machinery industries.
Using the achievement of its 10,000th shipment as a springboard, MHI will now continue its quest to secure the No.1 position in the global market for gear machines. In addition to responding to increasingly demanding requirements for less gear noise and smaller and lighter gear structures, the company looks to develop new machining methods and new machines engineered for increased harmony with the natural and work environments, in a quest to lead the gear machining industry in new innovations. It will also accelerate expansion of its global network, optimally leveraging its production bases in Japan, China, India and the U.S. and its sales and service bases worldwide. Every effort will be applied to consolidating the company's position as a top runner in the global market in all aspects of gear machining equipment.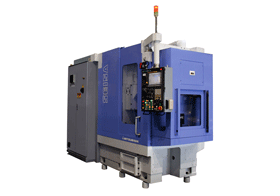 ["SE15A" dry-cut gear shaping machine, the 10,000th gear machine]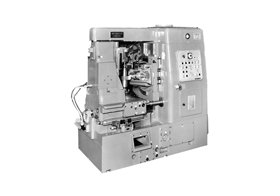 ["Mitsubishi Lorenz gear hobbing machine," the first gear machine of MHI]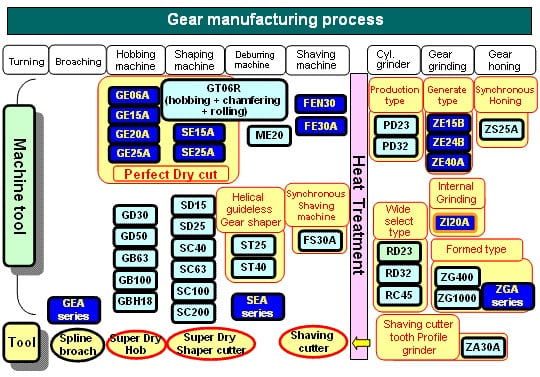 ---
About MHI Group
Mitsubishi Heavy Industries (MHI) Group is one of the world's leading industrial groups, spanning energy, smart infrastructure, industrial machinery, aerospace and defense. MHI Group combines cutting-edge technology with deep experience to deliver innovative, integrated solutions that help to realize a carbon neutral world, improve the quality of life and ensure a safer world. For more information, please visit www.mhi.com or follow our insights and stories on spectra.mhi.com.