Mitsubishi Minatomirai Industrial Museum Marks 2 Millionth Visitor
-- 18 Years from 1994 Opening,
Less than 7 Years from 1 Million Milestone --
Tokyo, October 12, 2012 - The Mitsubishi Minatomirai Industrial Museum ("the Museum"), opened by Mitsubishi Heavy Industries, Ltd. (MHI) in Yokohama in June 1994 to publicize the company's products and technologies, foster exchanges with the local community, and promote interest in science and technology, held a ceremony on October 12 to celebrate welcoming its 2 millionth visitor to date. The Museum's 2 millionth visitor was Kazuki Fujii, a 4th grader at Sobudai Higashi Elementary School in Zama City, Kanagawa Prefecture. He received mementos from Museum Director Hiroshi Yanagi.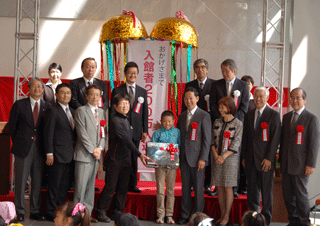 The commemorative ceremony opened with a message by former astronaut Mamoru Mohri, Chief Executive Director of the National Museum of Emerging Science and Innovation (Miraikan) and President of the Japan Science Museum Association (JASMA), of which the Museum is a member, speaking on behalf of all the attendees. A message of congratulations from Yokohama Mayor Fumiko Hayashi was then read to the audience by Ken Akaoka, an official with Yokohama's Culture and Tourism Bureau. Akihiko Nakayama, head of MHI's Corporate Communication Department, represented the company with a message of appreciation, followed by a message of thanks delivered by Museum Director Yanagi.

Kazuki Fujii, the lucky 2 millionth visitor, was presented with a scale model of the "SHINKAI 6500" submersible and a book about the vessel. His fellow students from Sobudai Higashi Elementary School all received a present from the Museum's gift shop having to do with the transfer vehicles used to transport cargo to the International Space Station (ISS). The school as a whole received a gift also: a model of the MRJ (Mitsubishi Regional Jet), Japan's first passenger jet now under development by MHI and its project partners toward a target first flight in 2013.

Reaching the milestone of 2 million visitors took approximately 18 years. In December 2000 the Museum recorded its first half-million visitors, a feat accomplished in roughly six-and-a-half years after opening. The 1 millionth visitor was registered after another five years, in November 2005. Reaching the 1.5 million mark required less than four years, in August 2009, and the 2 millionth visitor was marked in just over three years. As these figures indicate, the number of visitors to the Museum, including repeat visitors, has increased steadily since its inception.

The Mitsubishi Minatomirai Industrial Museum uses actual machinery and equipment, scale models and explanatory panels to present easy-to-understand introductions to MHI's state-of-the-art scientific technologies and products. Exhibits are divided into six zones: Environment/Energy, Aerospace, Ocean, Transportation, Daily Life Discovery and Technology Quest. The Museum continually updates the exhibits in order to show the latest technologies, and themes are chosen that will attract broad social interest.

At the same time, every effort is made to make the visitors' learning experience fun and enjoyable through hands-on participation. Among the most popular attractions recently are a flight simulator, which has an exterior resembling to the MRJ cockpit area and enables visitors to experience what it would be like to pilot and a game, in quiz format, about making good use of electricity resources. Ongoing efforts like these to constantly improve exhibits, plus the well-planned initiatives taken to expand the number of regular visitors, have led, in synergy with the Museum's own widening recognition, to its steady increase in visitor numbers.

Leveraging the achievement of its 2 millionth visitor, the Museum will now strive to enhance its exhibits even further and to engage ever more closely with its local community.
Outline of Mitsubishi Minatomirai Industrial Museum


Location:                  Mitsubishijuko Yokohama Building, 3-1, Minatomirai 3-chome,
                               Nishi-ku, Yokohama-shi, 220-8401
Telephone:               +81-45-200-7351
Fax:                         +81-45-200-9902
Website:                   http://www.mhi.co.jp/en/museum/
Mobile site:               http://museum.mobille.mhi.co.jp
Access:                     3-minute walk from Minatomirai Station on the Minatomirai Line
                                 8-minute walk from Sakuragicho Station
                                 on the JR Negishi Line or Yokohama Subway Line
Open hours:                From 10:00 a.m. to 5:00 p.m. (admission until 4:30 p.m.) 
Closed Days:               Every Monday (following day if Monday is a national holiday) 
                                   New Year Holidays, Specially designated closed days
Admission Fee:          300 yen for adults
                                    200 yen for junior and senior high school students
                                    100 yen for elementary school students 
                                    100 yen discount per person for groups of 10 or more people 
                                    Admission is free for elementary school,
                                    junior and senior high school and university field trip visits,
                                    provided a reservation is made at least a day in advance of the visit.
  
[Kazuki Fujii, the 2 millionth visitor, performs traditional decorative paper ball breaking]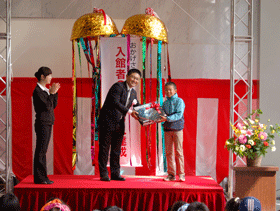 [Presentation of commemorative gift]

---
About MHI Group
Mitsubishi Heavy Industries (MHI) Group is one of the world's leading industrial groups, spanning energy, smart infrastructure, industrial machinery, aerospace and defense. MHI Group combines cutting-edge technology with deep experience to deliver innovative, integrated solutions that help to realize a carbon neutral world, improve the quality of life and ensure a safer world. For more information, please visit www.mhi.com or follow our insights and stories on spectra.mhi.com.