MHI to Exhibit at "Japan Aerospace 2012"
Under Theme of "Reaching for the Skies"
-- Focus on H-IIB Rocket, MRJ and Space Solar Power System --
Tokyo, September 26, 2012 - Mitsubishi Heavy Industries, Ltd. (MHI) and Mitsubishi Aircraft Corporation, the company developing and marketing the Mitsubishi Regional Jet (MRJ), will jointly exhibit at the Japan International Aerospace Exhibition 2012 (Japan Aerospace 2012, or JA2012), which is to take place at Port Messe Nagoya, an international exhibition hall in Nagoya, Aichi Prefecture, from October 9 through 14. The two companies' exhibits will include an introduction to MHI's space equipment, such as the H-IIB launch vehicle, and a mockup of the cabin of the MRJ, the next-generation regional jet now under development and targeted to be delivered in 2015. Under its exhibition theme - "Reaching for the Skies" - MHI will introduce its advanced technologies and comprehensive expertise that support the development of Japan, a scientific and technological nation.
The two companies' exhibition area will encompass two zones: one focusing on space equipment and the other on aircraft.

Space Equipment Zone
This zone will include models of:
- The H-IIA launch vehicle
- The H-IIB launch vehicle, which is being used to launch the H-II transfer vehicle (HTV), the spacecraft that transfers cargo to the International Space
  Station (ISS)
- The H-II transfer vehicle
- Next-generation rocket engines currently under development:
   MB-XX: under development with Pratt & Whitney Rocketdyne of the U.S.
    LE-X: under development in Japan

Also in this zone, MHI will explain its activities in space development and utilization closer to people's lives. Among the exhibitions will be the company's recoverable capsule type experiment system that will enable experiments with small animals in space, a neutron detector to be used in space experimentation, and a composite tank made of CFRP (carbon fiber reinforced plastics) that is installed in satellites.

MHI will also provide video introductions to the company's space equipment business, focusing on the H-IIA and H-IIB rockets and other products, as well as a presentation of the company's vision for future utilization of the lunar surface. A video and models will be used to demonstrate the company's various technologies for realizing a base on the moon and its space solar power system (SSPS) concept, whereby energy will be generated by solar power using huge solar panels placed in stationary orbit around the Earth, and transmitted to Earth by microwave technology.
Aircraft Zone
In the aircraft zone, the exhibition will focus on the MRJ and include a cabin mockup. The MRJ, currently under development by Mitsubishi Aircraft Corporation, is a family of 70- to 90-seat passenger jets that will offer both top-class operational economy and outstanding cabin comfort. MHI will also introduce its activities as Japan's leading company in the defense industry, including models of the F-2 fighter and SH-60K patrol helicopter.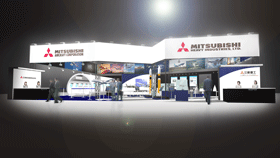 [Conceptual drawing of the exhibition booth at JA2012]
---
About MHI Group
Mitsubishi Heavy Industries (MHI) Group is one of the world's leading industrial groups, spanning energy, smart infrastructure, industrial machinery, aerospace and defense. MHI Group combines cutting-edge technology with deep experience to deliver innovative, integrated solutions that help to realize a carbon neutral world, improve the quality of life and ensure a safer world. For more information, please visit www.mhi.com or follow our insights and stories on spectra.mhi.com.