Mitsubishi Minatomirai Industrial Museum to Hold "Autumn Study Festival" To Teach Young Students about Aerospace and Science Enjoyably
- To Include Special Class Taught by an MHI Rocket Engineer –
Tokyo, September 25, 2012 - On October 27 (Sat) and 28 (Sun) the Mitsubishi Minatomirai Industrial Museum in Yokohama will hold its third "Autumn Study Festival" organized to enable children to learn about aerospace and rocketry enjoyably through study sessions, science experiments, arithmetic puzzles and other fun endeavors. The two-day festival is being prepared in collaboration with Chuman Gakuin, one of the nation's foremost cram school chains. Ten events will be held, including the very first special class ever conducted by a rocket engineer from Mitsubishi Heavy Industries, Ltd. (MHI).
The first "Autumn Study Festival in Minatomirai" took place in 2010. Its inauguration represented the meshing of the overriding aim of the Mitsubishi Minatomirai Industrial Museum, which is to cultivate children's interest in the sciences and manufacturing, and the primary goal of Chuman Gakuin, which conducts a variety of hands-on study sessions designed for children's enjoyment. For this third festival, the joint organizers have newly acquired the added support of Television Kanagawa, Inc., a Yokohama-based TV station.

The highlight of this year's festival is expected to be a science class on rockets and artificial satellites conducted by an MHI rocket engineer. Teaching the class will be an engineer from the company's Nagoya Guidance & Propulsion Systems Works, where engines and other components for Japan's large-scale H-IIA and H-IIB rockets are manufactured. Children attending the class will learn how rockets are able to fly, the properties of the liquid hydrogen used as rocket fuel, the functions served by satellites, and other topics all presented in an easily understandable way. For added enjoyment, the explanations will be complemented by quiz questions, video presentations and hands-on experiments. Participants will also be given the opportunity to try on a spacesuit, owned by the Japan Aerospace Exploration Agency (JAXA), for conducting extravehicular activities. Students and their accompanying family members will also be able to take part in solving arithmetic puzzles specially developed by Chuman Gakuin.
The full listing of events to be included in this year's Autumn Study Festival is as follows:
1) "Rockets and Satellites": a class conducted by an MHI rocket engineer
2) "The Power of Parabola Antennas": experiments using a vacuum chamber and a home-made sound collector
3) "Let's Wear a Spacesuit!": an opportunity to try on a spacesuit just like the real thing
4) "Arithmetic Puzzles": fun solving brain-tickling math puzzles
5) "Celestial Bodies": a short Chuman Gakuin class using an interactive whiteboard
6) "Speed Reading": brief training in speed reading, using a computer
7) "Language & Arithmetic Class": a Chuman Gakuin class created to improve reading and arithmetic skills
8) "Techno Workbook": quizzes based on museum exhibits
9) "Solar System Adventure": a specially made program shown in a 360-degree full-screen chamber theater
10) "Guided Tour of the Aerospace Zone": a tour introducing the MRJ (Mitsubishi Regional Jet), the first passenger jet ever made in Japan, and rockets made in Japan
Chuman Gakuin, established in 1954, is a chain of cram schools providing educational guidance to students at the elementary, middle school and high school levels. It operates 146 classrooms primarily in Kanagawa Prefecture. Its involvement in the "Autumn Study Festival" program is part of its proactive participation in events promoting hands-on learning.
The Mitsubishi Minatomirai Industrial Museum was opened in Yokohama in June 1994 with the aim of promoting exchanges with the local community and fostering interest toward science and technology. The museum has six zones: Environment/Energy, Aerospace, Ocean, Transportation, Daily Life Discovery and Technology Quest. Together they introduce state-of-the-art technologies and products rarely encountered in everyday life, providing insight into the close relationship between industrial activities and our daily lives.

Outline of Mitsubishi Minatomirai Industrial Museum
Location:           Mitsubishijuko Yokohama Building, 3-1, Minatomirai 3-chome, Nishi-ku, Yokohama-shi, 220-8401
Telephone:        +81-45-200-7351
Fax:                  +81-45-200-9902
Website:            http://www.mhi.co.jp/en/museum/
Mobile site:        http://museum.mobille.mhi.co.jp
Access:             3-minute walk from Minatomirai Station on the Minatomirai Line
                         8-minute walk from Sakuragicho Station on the JR Negishi Line or Yokohama Subway Line
Open hours:       From 10:00 a.m. to 5:00 p.m. (admission until 4:30 p.m.) 
Closed Days:      Every Monday (following day if Monday is a national holiday)  New Year Holidays, Specially designated closed days
Admission Fee:  300 yen for adults, 200 yen for junior and senior high school students, 100 yen for elementary school students,
                         100 yen discount per person for groups of 10 or more people 
                         Admission is free for persons 65 or older, and physically impaired persons and their attendants (please show your ID or certificate). 
                          Admission is free for elementary school, junior and senior high school and university field trip visits, provided a reservation is made
                        at least a day in advance of the visit.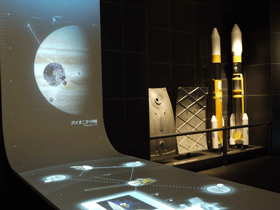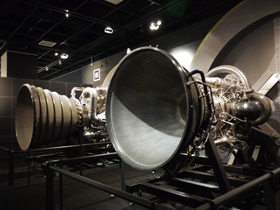 [Aerospace Zone]
---
About MHI Group
Mitsubishi Heavy Industries (MHI) Group is one of the world's leading industrial groups, spanning energy, smart infrastructure, industrial machinery, aerospace and defense. MHI Group combines cutting-edge technology with deep experience to deliver innovative, integrated solutions that help to realize a carbon neutral world, improve the quality of life and ensure a safer world. For more information, please visit www.mhi.com or follow our insights and stories on spectra.mhi.com.