MHI to Intensify Proposal-based Marketing Approach
For Machine Tools and Cutting Tools to Global Market
-- Exhibiting at IMTS 2012 in Collaboration with Federal Broach --
Tokyo, September 5, 2012 - Mitsubishi Heavy Industries, Ltd. (MHI) is taking an important step to intensify its proposal-based marketing of machine tools and cutting tools to the world market through a new approach collaborating with Federal Broach Holdings, LLC, a company MHI acquired this April. Going forward, MHI will aggressively explore demand from customers seeking enhanced production efficiency and machining accuracy in the automotive and aircraft industries, and will support them through machining systems combining the technologies of the two companies. As part of this initiative, MHI will present its machine tools and cutting tools at the International Manufacturing Technology Show (IMTS) 2012 to take place September 10 through 15 in Chicago, Illinois, in collaboration with Federal Broach, to demonstrate their high-level solutions for diverse needs in a broad range of fields.
In pursuing synergy effects from the integration of its business operations with those of Federal Broach, MHI looks to explore global markets leveraging the two companies' respective business bases. Major targets are automotive-related industries and manufacturers of jet engines and turbines that use the broaches*1 and broach machines produced by Federal Broach, as well as users of automotive, construction and industrial machinery in the Asian markets, where MHI is in a position of solid strength.

Together the two companies will offer potential customers proposals on various machine tools and cutting tools, including gear cutting machinery, as well as know-how in selecting optimum machining technology. This approach is designed to help customers extend their range of machining process choices according to their specific needs: for example, enhancement of mass-production capability, greater machining accuracy or cost reductions. In addition, integration of the two companies' production and production-control technologies will enable shorter delivery periods and provision of finely tuned servicing and support leveraging their respective operating bases.

At IMTS 2012 MHI and Federal Broach will jointly propose systems capable for high-speed precision machining of workpieces, including gears. MHI will present its "MVR30," a double-column 5-face milling machine, and two gear machines: the "SE25A," a dry-cut gear shaping machine, and the "ZE40A," a universal gear grinding machine capable of numerically controlled (NC) high-precision machining of post-heat treatment gears. The MVR30 provides highly accurate, high-speed machining and has an abundant delivery track record, mainly for machining of metallic molds for automobile parts and parts used in various large-size machines. The ZE40A is capable of accommodating both generating grinding and profile grinding*2 and can be applied to machining of diverse workpieces. Federal Broach will exhibit various cutting tools: helical broaches used to process the inner teeth of helical gears, which are found in the automatic transmission gears of motor vehicles, and "pine tree" type broaches, which are used primarily for machining grooves that mate blades and turbine discs in the fabrication of jet engines and turbines for power generation plants.

IMTS, which takes place every other year, is one of the world's three largest international machine tool fairs, along with Europe's Machine Tool World Exposition (EMO) and the Japan International Machine Tool Fair (JIMTOF). IMTS attracts manufacturers and users not only in the U.S. but from all over the world, setting the scene for active business negotiations. Through the show MHI aims to expand its proposal-based marketing approach to potential customers, with expectations of order receipts during the exhibition.

MHI is one of a few companies in the world which handle both machine tools and their cutting tools. Leveraging this advantage, the company has developed various innovative products and technologies, including the world's first "dry-cut gear cutting system." The markets and products of MHI and Federal Broach are highly complementary, with more than 95% of MHI's machine tool and cutting tool sales coming from Asia and about 80% of Federal Broach's sales emanating from North America and Europe. Going forward the two companies intend to continue strengthening their collaboration to precisely respond to needs of customers.
Notes:
1. Broaches are bar-shaped cutting tools that, when attached to broaching machines, are used to remove material from workpieces to form complex
   holes and finish surfaces with a high degree of accuracy.
2. Generating grinding is a grinding process for generating a tooth profile applying the relative movement of the workpiece and a grinding wheel not
    having an involute curve shape. Profile grinding is a grinding process to adjust tooth shape using a tooth-shaped grinding wheel.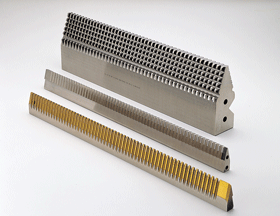 [Broaches]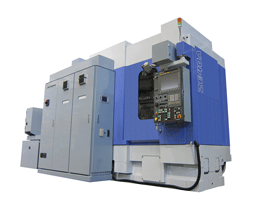 [Universal gear grinding machine ZE40A]
Products Page
---
About MHI Group
Mitsubishi Heavy Industries (MHI) Group is one of the world's leading industrial groups, spanning energy, smart infrastructure, industrial machinery, aerospace and defense. MHI Group combines cutting-edge technology with deep experience to deliver innovative, integrated solutions that help to realize a carbon neutral world, improve the quality of life and ensure a safer world. For more information, please visit www.mhi.com or follow our insights and stories on spectra.mhi.com.