"roomist" Humidifier Series Set for Launch with 9 Models
-- New Hybrid Evaporative Warm-Mist Offerings to Join Earlier
Fan-Powered Steam Models --
Tokyo, August 30, 2012 - Mitsubishi Heavy Industries Air-Conditioning & Thermal Systems Corporation, a wholly owned subsidiary of Mitsubishi Heavy Industries, Ltd. (MHI), is expanding its lineup of humidifier offerings with the addition of all-new hybrid evaporative warm-mist models, joining its earlier fan-powered steam humidifiers. The comprehensive new lineup will be progressively introduced on the Japanese market as the "roomist" series starting early September.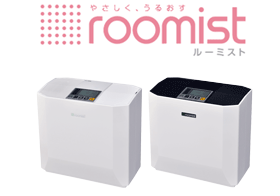 The newly developed hybrid evaporative warm-mist humidifiers will be available in four variations: a 500 milliliter per hour (ml/h) humidifying capacity model in a choice of two colors, a 700 ml/h model and an 850 ml/h model. Five options are available in the existing fan-powered steam humidifier lineup: two units with capacities of 350 ml/h, two with capacities of 600 ml/h, and one with a capacity of 1,200 ml/h. The buyer will thus have a significantly wider range of choices. Besides their humidifying function, all "roomist" models will also feature "double plasma bacteria removal" capability enabled by the incorporation of plasma ion technology and a specially developed filter; this combination will provide strong protection against bacteria and viruses.

The new hybrid evaporative warm-mist humidifiers integrate two systems: a vaporizing system in which a moist humidifier filter is fanned to induce humidification, and a warm-mist vaporizing system in which a moist humidifier filter is placed in a warm air current to induce humidification. When humidity is low, humidification is swiftly achieved by warm-mist vaporization; then, when the preset humidity level is reached, the unit switches to vaporization mode and adjusts the amount of humidification. As changeover between the two modes is automatically carried out depending on the humidity level, unnecessary electricity costs can be significantly curbed. When the unit is set to "ECO" operating mode, the heater is shut off and power consumption is reduced by roughly 90% compared to during normal operation. The "roomist" models also boast one of the industry's lowest levels of operating noise: just 32 decibels (dB) with the 500 ml/h model.

The four models of the new hybrid evaporative warm-mist humidifiers are all equipped with a function enabling sequential operation with MHI's SRK-SP "BEAVER" room air-conditioners, which are slated for gradual market launch commencing in October. Employing a humidity sensor on the air-conditioning unit, infrared signals (ON/OFF) are sent to the humidifier, to maintain the preset humidity level. The new humidifiers also adopt the industry's first liquid-crystal digital display for easy viewing. A light-emitting diode (LED) display is provided on the front panel that maintains green illumination during normal operation and flashes red when water replenishment or cleaning is required.

MHI's fan-powered steam humidifiers adopt a proprietary system in which vaporization is achieved simply by heating the water absorbed by the vaporization cloth. The system kicks in swiftly after only approximately 1 minute after operation start; and because the water is filtered by the vaporization cloth and the steam is sterilized at high temperature, the system is remarkably clean. With this system, humidifying capacity is unaffected by temperature or humidity, and dependable moisturizing is provided even in low-temperature ambient environments normally difficult to humidify. With MHI's fan-powered steam humidifiers, there is no worry of possible scalding even in the unlikely event the unit were to topple over, and cleaning is simple. When set to the "ECO" operating mode, humidifying capacity is curbed and power consumption is reduced by some 30% during normal operation.

Hybrid evaporative warm-mist humidifiers
SHK50JR-W (left) ,SHK50JR-W (right)


Hybrid evaporative warm-mist humidifier
SHK70JR-W


Hybrid evaporative warm-mist
SHK90JR-W

 

Fan-powered steam humidifiers
SHE35JD-W (left), SHE35JD-K (right)


Fan-powered steam humidifiers
SHE70JD-W (left), SHE70JD-K (right)


Fan-powered steam humidifier
SHE120JD-W

 
Business contact:Mitsubishi Heavy Industries Air-Conditioning & Thermal Systems Corporation (Japanese site)
---