MHI Renews Licensing Contract on Mitsubishi-UE Low-speed Marine Diesel Engines with Hyundai Heavy Industries, World's Largest Ship and Engine Builder
Tokyo, July 18, 2012 - Mitsubishi Heavy Industries, Ltd. (MHI) has renewed a technology licensing agreement on the company's Mitsubishi-UE low-speed marine diesel engines with Hyundai Heavy Industries Co., Ltd. (HHI), the world's largest shipbuilder and engine manufacturer. Through this licensing arrangement MHI seeks to further accelerate penetration of the Mitsubishi-UE engines in Korea, which has a near 35% share in the world's shipbuilding market, and other countries; it also aims to enhance its collaborative relationship with HHI, looking to boost the low-speed marine diesel engines' share in the global market.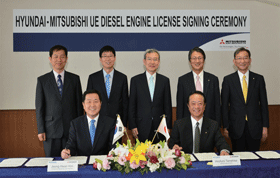 Specifically the new agreement grants licensing privileges to HHI to manufacture, sell and service Mitsubishi-UE LSE and LSE-Eco series engines with cylinder bores of between 350 to 800 millimeters (mm). Earlier MHI licensed its UE engine technologies to HHI in 1984. The new agreement has evolved from that previous contract, including an expanded number of licensed engine models.

HHI is one of Korea's key comprehensive heavy machinery manufacturers. Besides shipbuilding, the company engages in a broad range of operations including industrial robots, power generation systems, heavy equipment, construction machinery and special vehicles. HHI has capacity to produce about 14 million horsepower of low-speed marine engines annually.

MHI and HHI have enjoyed a fruitful relationship for many years. In the area of marine equipment they have collaborated not only in marine diesel engines but also in main engine turbines, cargo oil pumps and turbines, and MET turbochargers. In other areas, the two companies are currently collaborating in water feed pumps for boilers, circulating water pumps and compressors.

Mitsubishi-UE is one of three major brands in the global market for marine diesel engines, along with MAN and Wärtsilä. UE engines feature compact size, outstanding operating efficiency, and environmental advantages such as low fuel consumption and less cylinder lubrication oil required. They are available in a wide range of models to accommodate diverse power output needs.

By further deepening its relationship with HHI, MHI looks to pursue further penetration of its Mitsubishi-UE brand in the global market and expansion of its market share.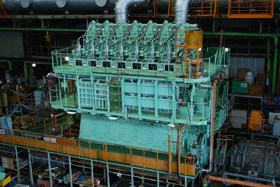 [Mitsubishi Low-speed Marine Diesel Engine]
---