MHI Signs MOU with Singapore's National Water Agency, PUB
On Development of Advanced Technologies
For Water Treatment/Reclamation
Tokyo, July 3, 2012 - Mitsubishi Heavy Industries, Ltd. (MHI) signed a memorandum of understanding (MOU) today with Singapore's national water agency, PUB to collaborate on the development of advanced technologies for water treatment and reclamation. As the first step, MHI and PUB will launch a project to demonstrate advanced water treatment and reclamation technologies for untreated industrial wastewater at one of PUB's water reclamation plants. Through the project and related activities, MHI aims to contribute to environmental protection in Singapore, and also looks to achieve commercialization of a water infrastructure system for smart communities.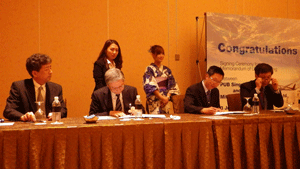 The demonstration project will be carried out at the Water Reclamation Plant, located at the Jurong Industrial Estate in western Singapore. The district is home to many industries, including shipbuilding, petroleum refining, chemicals, iron and steel production, and machinery manufacturing, thanks to successful initiatives by the Singapore government to attract foreign companies to the zone. As more and more plants have located into the region, the need has arisen for processes to enable stable treatment and efficient reclamation of the wastewater discharged from these plants.

Industrial water solutions is a new research area that PUB is focusing on and this collaboration will witness a test-bedding plant under actual site conditions at PUB's water reclamation plant. Under the agreed project between PUB and MHI, MHI will construct a plant where the company will carry out demonstration testing of optimal processes for treating and reclaiming wastewater. The plant will also be used to verify the viability of an automated control system for stabilized operation.

Under the two-year project, MHI will be responsible for design, manufacture, procurement, installation and operation of the water treatment plant, aiming to demonstrate stable wastewater treatment and significant improvement in wastewater reclamation. The entity in charge of project implementation will be MHI Industrial Engineering & Services Private Ltd. (MIES), a Singapore subsidiary of MHI. Mitsubishi Heavy Industries Mechatronics Systems, Ltd., a group company of MHI, will also cooperate in the project.

PUB is a statutory board under the Ministry of the Environment and Water Resources. It is the water agency that manage Singapore's water supply, water catchment and used water in an integrated way.

In recent years, environmental pollution from urban and industrial wastewater, caused by advanced urbanization and development of industrial parks, has become a serious problem in India, China, Southeast Asia, the Middle East, etc. As a result, demand for wastewater treatment infrastructure has emerged in these countries and regions and aspirations toward reclamation of wastewater as a water resource have been increasing. MHI intends to apply the advanced technologies to be demonstrated in the Singapore project to responding to such demands, and it also looks to establish water treatment and reclamation technologies for applications in the smart communities of tomorrow.
---
About MHI Group
Mitsubishi Heavy Industries (MHI) Group is one of the world's leading industrial groups, spanning energy, smart infrastructure, industrial machinery, aerospace and defense. MHI Group combines cutting-edge technology with deep experience to deliver innovative, integrated solutions that help to realize a carbon neutral world, improve the quality of life and ensure a safer world. For more information, please visit www.mhi.com or follow our insights and stories on spectra.mhi.com.