Mitsubishi Heavy Industries, Ltd. and Mitsubishi Corporation to Hold
Joint Exhibition in Japan Pavilion at Rio+20
-- Introducing the Two Companies' Diverse Operations and Products
Contributing to Realization of a Low-carbon Society --
Mitsubishi Heavy Industries, Ltd.
Mitsubishi Corporation
Tokyo, June 12, 2012 - Mitsubishi Heavy Industries, Ltd. (MHI) and Mitsubishi Corporation (MC) will hold a joint exhibition introducing their diverse business operations and products at the Japan Pavilion, a side event of Rio+20, the United Nations Conference on Sustainable Development1 getting under way in Rio de Janeiro, Brazil, on June 20.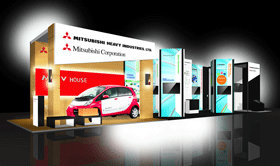 The Japan Pavilion has been created as a venue for displays by all sectors of Japan, including both the national and regional governments as well as members of the business community. During the pavilion's scheduled opening from June 13 to 24, the Brazilian Government is projecting the number of visitors to the pavilion will reach approximately 50,000, including VIPs from around the world.

More than 20 business enterprises will exhibit at the pavilion. MHI and MC's joint concept will be "realization of a low-carbon society through the creation of smart communities." Both companies will introduce a wide range of their business operations and products2.

In business relating to energy and the environment, using panel displays and video presentations MHI will introduce its gas turbine combined cycle (GTCC) systems, "J-series" gas turbines, integrated (coal) gasification combined cycle (IGCC) technologies, offshore wind turbines, geothermal generators, carbon dioxide (CO2) capture systems, and floating production storage & offloading (FPSO) units for liquefied natural gas (LNG). In business relating to transportation systems, the company will show its next-generation intelligent transport systems, the Mitsubishi Regional Jet (MRJ) and the H-IIA/H-IIB rockets.

MC too will introduce various aspects of its business operations focused on the environment, including such areas as smart communities, water, solar power and emissions reduction. In addition to using panel displays and video presentations, MC will present introductory lectures. It will also show panels describing the company's activities in corporate social responsibility (CSR). An actual i-MiEV, Mitsubishi Motor Corporation's (MMC) new-generation electric vehicle, will also be on display and show the new lifestyle to be provided by electric vehicles.

Between June 13 and 19 and again on June 23 and 24, the Japan Pavilion will be open to the general public. MHI and MC look forward to the occasion as a prime opportunity to enable the people of Brazil to become more familiar with the two companies.

Going forward, MHI and MC will continue to pursue a wide array of business operations aimed at making significant contributions to the realization of a low-carbon society, with their scope of activities to encompass all areas – land, sea, air and space.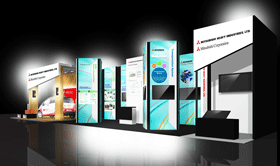 Notes:
*1: The theme of Rio+20 is the achievement of a green economy.
     The conference marks the 20th anniversary since the Global Summit convened in Rio de Janeiro in 1992. This year's discussions will
     focus on the global economy, global society and the environment in the next 10 years. Leaders of some 120 nations are expected
     to attend the event during its three-day run (June 20-22).
*2: Brazil has the largest economy among all countries in South America, and today, as one of the "BRICs" it continues to mark stable growth.
     MHI has enjoyed a productive relationship with Brazil tracing back many years. Nearly a half-century ago, in 1963 the company established
     a boiler manufacturer, CBC Industrias Pesadas S.A., in the country.
     In 2005, MHI founded a dedicated sales unit, Mitsubishi Industrias Pesadas do Brasil Ltda., which is now undertaking an expanding
scopeof business.
     MC established its office in 1955 and developed various businesses and contributed to the local economy. Furthermore, in the Midterm Corporate
     Strategy 2012, MC has designated Brazil as one of the company's most strategically vital regions to enhance its business contribution
     in the country.
Related Pages
---
About MHI Group
Mitsubishi Heavy Industries (MHI) Group is one of the world's leading industrial groups, spanning energy, smart infrastructure, industrial machinery, aerospace and defense. MHI Group combines cutting-edge technology with deep experience to deliver innovative, integrated solutions that help to realize a carbon neutral world, improve the quality of life and ensure a safer world. For more information, please visit www.mhi.com or follow our insights and stories on spectra.mhi.com.