The First "Air-Carpet" for AIDA Cruise Ships
- 7% Less Fuel Consumption by MALS (Mitsubishi Air Lubrication System) -
Tokyo, June 6, 2012 - Mitsubishi Heavy Industries, Ltd. (MHI) will install its innovative "Mitsubishi Air Lubrication System" (MALS) on two large cruise ships to be built for the AIDA Cruises, a German brand of Carnival Corporation & plc. MALS is MHI's proprietary technology that reduces fuel consumption and carbon dioxide (CO2) by a layer of air bubbles blown out from the vessel's bottom. The application of the MALS for the two cruise ships ordered by AIDA Cruises was decided in light of the customer's keen interest in lowering fuel consumption and easing the burden on the environment. The system is expected to reduce the vessel's fuel consumption by approximately 7%. The event marks the world's first installation of MALS on a cruise ship. It is also a significant milestone for the MALS as the cruise shipping industry requires definite quality and performance on any devices so this first application in this sector further demonstrates its reliability to the whole shipping industry.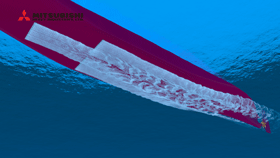 MHI received the order for the two cruise ships in November 2011. The 125,000 gross tonnage (G/T), 3,250 passenger ships will be the largest ever constructed for AIDA Cruises. Construction will take place at MHI's Nagasaki Shipyard & Machinery Works, with deliveries scheduled for the spring of 2015 and 2016, respectively.

The air blown out by the MALS from the vessel's bottom produces small air bubbles which cover the vessel's bottom like an "air-carpet", which reduces friction between the hull and seawater during navigation. For the MALS, MHI uses special in-house developed high-efficiency blowers and state-of-the-art fluid simulation analysis tools to configure the arrangement of air outlet points to achieve maximum friction reduction at optimized air-blow volume. With these advanced innovations, MHI expects a 7% energy-saving effect. In 2010, MHI has already verified the performance of the MALS with an approximately 13% fuel consumption reduction during extensive sea trials on two module carriers which was the first commercial application of the MALS for the vessel in operation.

Following the successful launching of the MALS on module carriers, MHI has completed a newly developed concept design for bulk carriers, a major marine transportation vessel, that enables an approximately 25% reduction in CO2 emissions compared to conventional vessels, thanks to application of the MALS complemented with high-efficiency hull form and improved propulsion system. MHI will provide its conceptual design of this energy-saving bulk carrier for three grain carriers to be built for Archer Daniels Midland Company (ADM), a major U.S. grain handler.

Given the current trend toward adoption of international marine transportation rules for reducing environmental burdens, coupled with continuing fuel price escalation, demand for more energy-efficient vessels is steadily increasing. In response, MHI aims not only to further strengthen its marketing activities for new MALS-installed ships such as module carriers, bulk carriers and cruise ships; it also intends to promote business in retrofitting MALS to existing vessels. Simultaneously, the company will conduct focused marketing activities for its environment and energy-saving related technologies, including licensing of MALS technologies, and also build up its engineering business through provision of eco-ship related technologies and increased sales of energy-saving systems.
---
About MHI Group
Mitsubishi Heavy Industries (MHI) Group is one of the world's leading industrial groups, spanning energy, smart infrastructure, industrial machinery, aerospace and defense. MHI Group combines cutting-edge technology with deep experience to deliver innovative, integrated solutions that help to realize a carbon neutral world, improve the quality of life and ensure a safer world. For more information, please visit www.mhi.com or follow our insights and stories on spectra.mhi.com.