MHI to Develop Fuel Cell Triple Combined Cycle Power Generation System
NEDO-Commissioned Development of Basic Technologies
For World's Highest Efficiency Commercial Power Generation Using SOFCs
Tokyo, June 1, 2012 - Mitsubishi Heavy Industries, Ltd. (MHI) will begin developing basic technologies for a triple combined cycle power generation system integrating solid oxide fuel cells (SOFC) and a gas turbine combined cycle (GTCC) power generation system. Under the umbrella of the New Energy and Industrial Technology Development Organization (NEDO), the company will launch a two-year study this year as part of a project entitled "Development of Systems and Basic Technologies for Solid Oxide Fuel Cells (SOFC)."NEDO previously received and accepted a proposal from MHI.
In a triple combined cycle power generation system, an SOFC power generation system is placed before the GTCC system. By generating power at three stages – the fuel cell, gas turbine, and steam turbine – the resulting fuel cell combined cycle (FCCC) system achieves outstanding efficiency in generating power from natural gas. The FCCC system is expected to achieve the world's highest power generation efficiency exceeding 70% (LHV)1 for several hundred MW class power generation and over 60% (LHV) efficiency for several tens MW class power generation.

As part of the study, MHI will develop the basic technologies needed to combine SOFC and gas turbine power generation systems. For the SOFC system, the company will test the system's characteristic features and durability under high pressure (up to 3.0 MPaG2). Issues to be considered for the gas turbine system include conversion of gas turbines and combustor development. MHI also plans to demonstrate a power generation simulation involving SOFC and a gas turbine system working in conjunction.

MHI sees FCCC triple combined cycle power generation as a revolutionary, epochal technology that will result in 10% to 20% improvements in power generation efficiency over existing natural gas-fired power generation systems. The company plans to pursue development based on the results of the basic technologies study, with the ultimate goal of commercializing the technology.
Notes
1. LHV (Lower Heating Value): The heat value of a combustion process excluding latent heat of vaporization of water.
   Higher heating value (HHV) is the gross value, including the latent heat of vaporization of water.
2. MPaG: Megapascal [gauge]: Unit of pressure relative to atmospheric pressure.
 
Conceptual drawing of the triple combined cycle power generation system configuration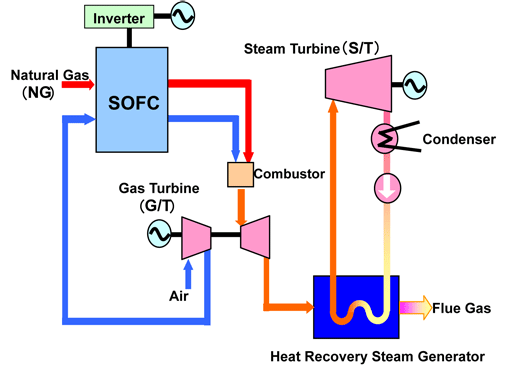 Conceptual drawing of the triple combined cycle power generation system exterior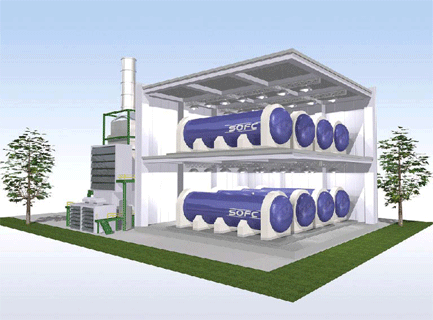 ---
About MHI Group
Mitsubishi Heavy Industries (MHI) Group is one of the world's leading industrial groups, spanning energy, smart infrastructure, industrial machinery, aerospace and defense. MHI Group combines cutting-edge technology with deep experience to deliver innovative, integrated solutions that help to realize a carbon neutral world, improve the quality of life and ensure a safer world. For more information, please visit www.mhi.com or follow our insights and stories on spectra.mhi.com.