Mitsubishi Delivers 4 Diesel Engine Power Generators to Palau
As Part of Emergency Grant Aid by Japanese Government
Tokyo, May 17, 2012 - Mitsubishi Heavy Industries, Ltd. (MHI) has delivered four sets of power generation systems using diesel engines to the government of the Republic of Palau on May 16. The generators are being provided as part of emergency grant aid under the Japanese government's response to the power crisis in Palau, which has been suffering a serious power shortage since a fire at a power plant last November. MHI delivered the generators through Japan International Cooperation System (JICS) as the first phase of the aid. Installation work on the generators is slated for completion by month's end.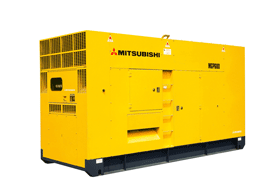 A delivery ceremony took place in Palau on May 16 in the presence of Palau President Johnson Toribiong and numerous Palauan government officials and parties from the Palau Public Utilities Corporation (PPUC). From the Japan side, attendees included members from the Japanese Embassy in Palau, the Japan International Cooperation Agency (JICA), JICS and MHI.

The Republic of Palau is an archipelago in the Micronesia region of the Pacific Ocean with a population of about 20,000 living in a land area of approximately 488 square kilometers. As a result of the power plant fire last year, the country's electricity supply dropped by half. The power shortage still continues and has seriously disrupted people's lives. On receiving a request from the government of Palau for emergency aid, the Japanese government held consultations with Palauan counterparts concerning the modality of aid, and in February a decision was reached to provide support in the area of electricity supply, including provision of generators.

The generators supplied by MHI are portable power generation systems, 500kW generation capacity and weighing approx. 7.3 tons each, that feature a fuel tank and cooling radiator within a packaged unit. Packaged generators have been widely used, especially since the Great East Japan Earthquake last year, by various customers.

Going forward MHI, as a company with operations of global scope, will continue to make contributions to disaster relief, environmental protection and the solution of global issues through its various business activities.
---
About MHI Group
Mitsubishi Heavy Industries (MHI) Group is one of the world's leading industrial groups, spanning energy, smart infrastructure, industrial machinery, aerospace and defense. MHI Group combines cutting-edge technology with deep experience to deliver innovative, integrated solutions that help to realize a carbon neutral world, improve the quality of life and ensure a safer world. For more information, please visit www.mhi.com or follow our insights and stories on spectra.mhi.com.