Tokyo, April 26, 2012 - Mitsubishi Heavy Industries, Ltd. (MHI) has signed an agreement with Federal Broach Holdings, LLC and its shareholders to acquire all of the equity interest of the American firm. Federal Broach is one of the world's leading manufacturers of broaches1 and broach machines. They have an extensive customer base in the North American and European markets, providing tooling and equipment to both motor vehicle and aircraft industries. By consolidating its operations with those of Federal Broach, MHI will build up its cutting tool operations, extend its global reach and position itself to take over the leading share of the world market.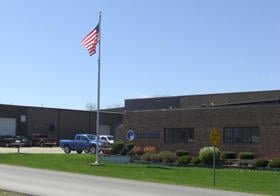 Products manufactured by Federal Broach include helical broaches, which are used for machining the helical gears found in motor vehicle automatic transmissions, and "Pine tree" type broaches2, which are mainly used in machining parts for aircraft engines and power generation systems. Demand for these products, which Federal Broach supplies to some of the world's leading manufacturers, is expected to grow. About 80% of the company's sales are in North America and Europe, while more than 95% of MHI's broach sales are in Asia. As the markets and products of the two companies are highly complementary, significant synergies are expected from the integration of their operations.

Federal Broach headquartered in Harrison, Michigan, where they manufacture Federal Broach-brand and Detroit Broach- brand cutting tools and machines. In addition to the Harrison, Michigan manufacturing facility, Federal operates plants in Greer, South Carolina, and Plantation, Florida for the production of Southeast Broach-brand "Pine tree" type broaches. The company also has holdings in a cutting tool service facility for broach re-sharpening in Querétaro, Mexico.

After the acquisition, MHI plans to expand Federal Broach's production capacity in order to be able to aggressively market broaches and broach machines in the Asian market. At the same time, it will further enhance marketing activities of its own gear cutting machines and tools in North America and Europe through Federal Broach. Through these initiatives, MHI will be able to shorten delivery times and provide customers with more detailed technical services. Plans call for MHI to transfer Federal Broach technology to Mitsubishi Heavy Industries India Precision Tools, Ltd. (MHI-IPT), a MHI cutting tool manufacturing and marketing base in Ranipet, India. This will create three bases - in Japan, the U.S. and India - from which this business can be further expanded globally.

Notes:
1.Broaches are bar-shaped cutting tools that, when attached to broaching machines, are used to remove material from workpieces to form
complex holes and finish surfaces with a high degree of accuracy.
2.Pine tree type broaches are used for machining of grooves to mate blades and turbine discs in the fabrication of jet engines and various
turbines. The cutting teeth are shaped like the silhouette of a pine tree, hence the name.
| | |
| --- | --- |
| [helical broaches] | ["Pine tree" type broaches2] |
Related Page
---
About MHI Group
Mitsubishi Heavy Industries (MHI) Group is one of the world's leading industrial groups, spanning energy, smart infrastructure, industrial machinery, aerospace and defense. MHI Group combines cutting-edge technology with deep experience to deliver innovative, integrated solutions that help to realize a carbon neutral world, improve the quality of life and ensure a safer world. For more information, please visit www.mhi.com or follow our insights and stories on spectra.mhi.com.