MHI Increases Stake in MVDE, Small-size Diesel Engine JV in India,
To Enhance Financial Strength to Further Cultivate Rapidly Growing Market
Tokyo, April 24, 2012 - Mitsubishi Heavy Industries, Ltd. (MHI) has increased its stake in MHI-VST Diesel Engines Pvt. Ltd. (MVDE), a small-size diesel engine manufacturing and marketing company jointly established with V.S.T. Tillers Tractors Ltd. (VTTL), a power tiller and tractor manufacturer in India. In response to growing recognition of the MHI brand in the Indian market, MHI, by increasing its capital stake in MVDE, will ensure that the JV has sufficient financial strength both to accommodate large-scale business transactions and to further expand its product lineup. Through this initiative MHI aims to capture an increasingly larger share of the rapidly rising demand for small-size engines.
MVDE was established in 2007 and has its head office and manufacturing plant in Mysore, an ancient city in south India's Karnataka state. Until now the JV has been capitalized at 415 million rupees (approx. 664 million yen), with MHI owning 90% and VTTL 10%. The recently completed capital increase added in 880 million rupees, with the entire amount borne by MHI. As a result MVDE's capital base has more than tripled to 1,295 million rupees (approx. 2,072 million yen), of which MHI now owns approx. 96.8%.

Under license from MHI, MVDE has been manufacturing and selling engines with less than 2,000 cc (cubic centimeters) displacement in India and neighboring countries. Demand for agricultural and construction machinery in India is robust, a situation that has attracted many foreign construction machinery manufacturers, including those from Japan. MVDE has won large-scale engine orders for installations in agricultural and construction machinery, and in response the JV is presently expanding its annual production capacity from 10,000 to 37,000 units. MVDE also looks to increase its local procurement ratio as a way of enhancing the cost competitiveness of its products.

VTTL, established in 1967, has its head office and manufacturing plant in Bengaluru, the capital city of Karnataka state. The company has annual production capacity of 25,000 power tillers, 5,000 tractors and 32,000 engines.

Going forward MHI will progressively expand MVDE's product portfolio to include large-size engines and generators incorporating those engines, and it will also strengthen the JV's functions to enable it to perform the full range of activities from development and design to marketing, procurement, manufacturing and servicing. Through these initiatives, MHI aims to develop MVDE into one of its core engine business bases, complementing established bases in Japan, Europe and China.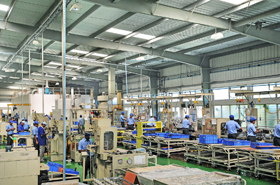 [Production plant of MVDE]
 Products Page
---
About MHI Group
Mitsubishi Heavy Industries (MHI) Group is one of the world's leading industrial groups, spanning energy, smart infrastructure, industrial machinery, aerospace and defense. MHI Group combines cutting-edge technology with deep experience to deliver innovative, integrated solutions that help to realize a carbon neutral world, improve the quality of life and ensure a safer world. For more information, please visit www.mhi.com or follow our insights and stories on spectra.mhi.com.