MHI-MS Develops Radiation Measurement System for Rice
In Response to Start of New Complete Screening Requirement
15 Bq/kg Lower Limit Measurement Capability (5-sec) Conforms to New Food Sanitation Act Standards
Tokyo, April 23, 2012 - Mitsubishi Heavy Industries Mechatronics Systems, Ltd. (MHI-MS), a wholly owned subsidiary of Mitsubishi Heavy Industries, Ltd. (MHI), has developed a system enabling high-speed, high-precision measurement of radioactive cesium contained in rice. Simply by placing the rice, packed into sacks weighing 30 kilograms (kg) each, on the system's intake conveyor belt and pressing the start button, the dedicated system performs radiation measurement at a speed of roughly 4 sacks per minute. The newly developed system meets the new guidelines of Japan's Food Sanitation Act that went into effect this month. Marketing is set to commence in May.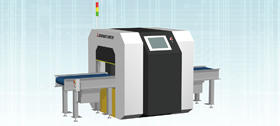 The potential presence of radioactive substances in farm produce has become a social concern in Japan since last year, and Fukushima Prefecture has adopted a policy of screening all sacks of locally produced rice starting from the harvest this autumn. The system developed by MHI-MS is industry's response to this full screening plan.

The new system was developed in collaboration with SEIKO EG&G Co., Ltd., a manufacturer of radiation measurement instruments. The measurement of radioactive cesium by the system will be performed with the screening room entirely covered so as to block out any and all external radioactivity, a feature that enables high-precision measurement free from any influence from radioactivity in the environment. The result is realization of a lower limit of measurement below 15 becquerels (Bq) per kilogram (kg) when measurement is performed for 5 seconds and below 10 Bq/kg when measurement continues for 15 seconds. These figures conform to the newly adopted guidelines of the Food Sanitation Act as well as to partial revisions of the law that mandates screening of radioactive cesium in food.

The system's conveyors can be variously modified to accommodate diverse user needs: for example, an additional line can be installed for removal of sacks failing the inspection. Options include a scale for weighing the rice sacks, etc.

The system's analysis capability is targeted at detection of radioactive cesium-134 and -137. Measurement tests have already been conducted using rice sacks and the targeted performance rating has been achieved. Currently field testing is under way, with plans looking for an early market launch. Mitsubishi Agricultural Machinery Co., Ltd., which has an expansive network in agricultural areas, will serve as marketing agent. The company will also undertake installation and after-sale servicing.

The new system is designed for use in preliminary screening. Any rice sacks failing this inspection are required to subsequently undergo more precise measurement by a system incorporating a germanium (Ge) semiconductor detector. MHI-MS is now looking to collaborate with SEIKO EG&G in developing the latter system also, to enable full-service measurement capability going forward.

MHI-MS performs a full gamut of operations relating to water treatment and dust collection systems, urban development products, toll collection machinery and test/inspection systems, from development, design, manufacture and installation to after-sale servicing. Starting this month the company has also taken over operations from MHI pertaining to a broad range of mechatronics system products, including culture, sports and leisure facilities and bio-ethanol production facilities. MHI-MS now handles all related marketing, design, manufacturing and construction.

Going forward MHI-MS will continue to pursue further enhancement of its products' competitive strength and dynamic expansion of its business operations in an ongoing quest to respond to diversified customer needs.
Major Specifications of Rice Radiation Measurement System

Dimensions

L4,000×W1,700×H1,500mm

Weight

4,500kg (approx.)

Lower limit of measurement

Below 15 Bq/kg (when measured for 5 sec)
Below 10 Bq/kg (when measured for 15 sec)

Cover

6-sided covering

Processing capacity

Approx. 4 sacks/min

Ambient environment

Temperature: 0°C - 40°C
Humidity: below 90% (no condensation)
Background: below 2µSv in installation room
 Business contact:Mitsubishi Heavy Industries Mechatronics Systems, Ltd. (Japanese site)

---
About MHI Group
Mitsubishi Heavy Industries (MHI) Group is one of the world's leading industrial groups, spanning energy, smart infrastructure, industrial machinery, aerospace and defense. MHI Group combines cutting-edge technology with deep experience to deliver innovative, integrated solutions that help to realize a carbon neutral world, improve the quality of life and ensure a safer world. For more information, please visit www.mhi.com or follow our insights and stories on spectra.mhi.com.