MHI Establishes JV with Shanghai Diesel Engine in China
To Manufacture and Market Industrial-use Engines
Tokyo, April 5, 2012 - Mitsubishi Heavy Industries, Ltd. (MHI) and Shanghai Diesel Engine Co., Ltd. (SDEC), a major Chinese diesel engine manufacturer, have signed an agreement to establish Shanghai MHI Engine Co., Ltd., to manufacture and market diesel engines in China. The aim of the new JV is to make a full-fledged entrance into the rapidly expanding Chinese market for industrial-use diesel engines and to build up market share through more competitively priced products. The JV is scheduled to begin manufacturing and marketing in December of this year.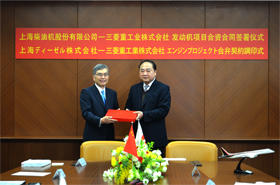 Shanghai MHI Engine will be capitalized at 200 million yuan (approximately 2.5 billion yen). Ownership will be divided equally between MHI and SDEC. The new company, to be headquartered in Shanghai, will target annual sales of 10 billion yen in the first few years and intends to boost this figure to 20 billion yen thereafter.

The JV will manufacture industrial-use diesel engines with power outputs in the 500 to 1,600 kW range under a manufacturing and marketing license from MHI. The JV's procurement, marketing and after-sale service will take advantage of SDEC's vast domestic network.

MHI has for some time been seeking to build up its share in the rapidly expanding Chinese market, while SDEC has been aiming to launch a full-scale entry into the market for industrial-use diesel engine with outputs of over 500 kW. The interests of the two companies thus meshed and led to the conclusion of the joint venture agreement.

A long-established Chinese manufacturer of diesel engines with some 3,300 employees, SDEC is an affiliate of Shanghai Automotive Industry Corporation (SAIC), the largest automobile manufacturer in China. SDEC's 100 to 500 kW high-speed diesel engines for construction machinery, power generation and marine use hold a large share of the market.

The Chinese diesel engine market is currently growing at a rapid rate. In addition, the Chinese government has begun to promote distributed power generation using more environmentally friendly natural gas as fuel. This decentralized approach to electricity generation using smaller generators is expected to cause the demand for diesel generators to soar, pushing the market from the current approximately 500 MW to 50,000 MW by 2015. However, the Chinese authorities require a high level of local content for participation in this market, and this makes local production indispensable. The new JV also intends to enter into gas engine market in future and will aggressively pursue new market opportunities such as this, aiming at further expanding its presence in the Chinese market.

MHI intends to give its full support to the development of the new company while at the same time maintaining its close relationship with SDEC.
---
About MHI Group
Mitsubishi Heavy Industries (MHI) Group is one of the world's leading industrial groups, spanning energy, smart infrastructure, industrial machinery, aerospace and defense. MHI Group combines cutting-edge technology with deep experience to deliver innovative, integrated solutions that help to realize a carbon neutral world, improve the quality of life and ensure a safer world. For more information, please visit www.mhi.com or follow our insights and stories on spectra.mhi.com.