MHI Providing Rechargeable Lithium-ion Batteries for Electric Racing Car,
Co-sponsoring Team to Compete in US "Race to the Clouds" Hill Climb
Tokyo, March 27, 2012 - Mitsubishi Heavy Industries, Ltd. (MHI) will provide the company's rechargeable lithium-ion batteries to power an EV (electric vehicle) racing car that is to participate in this year's Pikes Peak International Hill Climb (PPIHC), which will be held starting July 3 in Colorado in the American Rockies. As co-sponsor of "Team APEV with Monster Sport" organized by the Association for the Promotion of Electric Vehicles (APEV), MHI will develop and supply high-output lithium-ion batteries to provide the power needed for this demanding high-altitude up-hill race.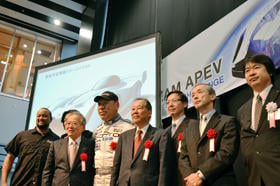 Last year MHI began mass production and marketing of rechargeable lithium-ion batteries - the crystallization of over two decades of R&D efforts. These batteries have already proved their exceptional reliability and long life through their application in industrial equipment developed by MHI, such as container-type large-capacity energy-storage systems and hybrid forklifts. For the EV racing car, the standard model large-capacity rechargeable lithium-ion batteries will be modified to provide vastly enhanced power output characteristics capable of delivering large surges of instantaneous power.

The PPIHC, which celebrates its 90th anniversary this year, is the second oldest motor-sport race in the United States after the Indianapolis 500 and a historic tradition in the Colorado Springs/Pikes Peak area. This "Race to the Clouds" is a time trial run over a 12.42 mile course that begins at an altitude of 9,390 feet and ends at the summit, 14,110 feet above sea level. As the vehicles and their drivers climb through the course's 156 turns, they will encounter rapid changes in temperature and atmospheric pressure and sudden shifts in weather, making this one of the world's most grueling auto races.

The EV will be driven by Nobuhiro "Monster" Tajima, chairman of Tajima Motor Corporation Co., Ltd., who has won the PPIHC Unlimited Division trophy for the past six years. This year Tajima aims to add a seventh win to his record of victories as he switches from a gasoline-powered vehicle to a prototype EV racing car. APEV Chairman Soichiro Fukutake, Chairman of Benesse Holdings, Inc., will act as the team's General Manager, and Yasunobu Suzuki, Chairman and CEO of NTN Corporation, will lead the team's cheering squad.

By leveraging the results gained from this race in the development of future batteries, MHI will add momentum to its efforts to contribute to the building of an energy-saving society that leaves a lighter footprint on the environment.
---
About MHI Group
Mitsubishi Heavy Industries (MHI) Group is one of the world's leading industrial groups, spanning energy, smart infrastructure, industrial machinery, aerospace and defense. MHI Group combines cutting-edge technology with deep experience to deliver innovative, integrated solutions that help to realize a carbon neutral world, improve the quality of life and ensure a safer world. For more information, please visit www.mhi.com or follow our insights and stories on spectra.mhi.com.