MHI Receives Engineering Study Order for Olkiluoto 4 from TVO,
To Study Application of EU-APWR for Nuclear Power Plant in Finland
Tokyo, March 26, 2012 - Mitsubishi Heavy Industries, Ltd. (MHI) has received an order for an engineering study to ensure licensability in Finland from Teollisuuden Voima Oyj (TVO), a non-listed public electricity producer in Finland, for Olkiluoto 4 (OL4), the utility's planned fourth nuclear power plant.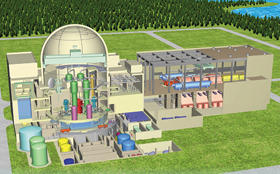 Based on the order, MHI will conduct a feasibility study aiming to secure and to fulfill engineering, procurement and construction requirements in the bid of the "EU-APWR" based on the TVO's inquiry of OL4 plant. The EU-APWR is one of the world's largest advanced pressurized water reactors (APWR) - in the 1,700 MWe (megawatts of electricity) class - targeted at major European utilities. The engineering study order from TVO represents an important steady step for MHI in the marketing of the EU-APWR.

TVO has already reached the decision in principle from the Finnish government and parliament to construct OL4 on Olkiluoto Island, which is just offshore in the Gulf of Bothnia in southwestern Finland. TVO has been advancing the construction project towards submitting a formal application for a construction license in the middle of 2015 at the latest.

MHI established a liaison office in Helsinki, the capital, this month. By closely collaborating with TVO, Finland's nuclear safety authority and partner companies, MHI looks to execute this project smoothly and to prepare the foundation towards next phases and project execution. At the same time, through its Helsinki liaison office MHI will continue information gathering activities concerning business related to nuclear power plants.

The company will engage in the business development activities for the EU-APWR, as in the U.S., where three units of the US-APWR reactor have already been selected in new nuclear power plant.

MHI developed the EU-APWR based on the previously developed 1,538 MWe APWR in Japan, with features modified to reflect European regulations and the requirements of EU customers. Like the similarly sized US-APWR, MHI's APWR for the U.S. market, the EU-APWR has achieved the world's highest level of thermal efficiency. To ensure high level of safety and reliability, the reactor incorporates various advanced features: for example, 4-train safety systems with advanced accumulators, and fully digitalized instrumentation and control equipment.
---
About MHI Group
Mitsubishi Heavy Industries (MHI) Group is one of the world's leading industrial groups, spanning energy, smart infrastructure, industrial machinery, aerospace and defense. MHI Group combines cutting-edge technology with deep experience to deliver innovative, integrated solutions that help to realize a carbon neutral world, improve the quality of life and ensure a safer world. For more information, please visit www.mhi.com or follow our insights and stories on spectra.mhi.com.