MHI Licenses Vessel Steering Gear and Deck Machinery Technology
To Jiangsu Masada of China
Move Aimed at Expanding Business in Trio of Marine-use
Hydraulic Products, including Deck Crane, in Rapidly Growing Market
Tokyo, March 21, 2012 - Mitsubishi Heavy Industries, Ltd. (MHI) has signed an agreement with Jiangsu Masada Heavy Industries Co, Ltd., in Jiangsu Province, China, under which MHI is to license production and marketing of steering gears and deck machinery based on company technology to Jiangsu Masada. Previously in 2008 MHI licensed deck crane technology to Jiangsu Masada - then known as Nantong Masada Ship Machinery Co., Ltd. With the latest licensing agreement Jiangsu Masada will now be able to establish a structure for providing three hydraulic marine machinery in combination to its customers, a move expected to enable the company to expand its share in the rapidly growing Chinese shipbuilding market.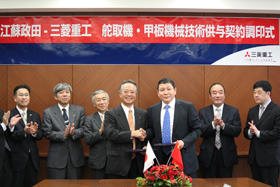 The steering gear and deck machinery technologies to be licensed are for small and medium-sized under-Panamax* vessels. Hydraulic equipments to drive the machinery will be supplied by MHI. With the addition of these two products, Jiangsu Masada will become the only Chinese manufacturer able to provide all three products under the same brand name – Mitsubishi. The company will also be in a position to pursue synergetic effects in marketing, for example by offering a combination of products as a package. The first unit to be produced under licensing is slated for completion before year's end. Plans call for Jiangsu Masada to begin operation of a new plant having more than double the production capacity of its present factory, thus driving acceleration of its products' market penetration.

Originally Jiangsu Masada was jointly established in 2005 by Masada Ironworks Co., Ltd., a Japanese winch manufacturer based in Osaka, and Nantong Universal Machinery Co., Ltd., an industrial machinery manufacturer in Jiangsu, to produce marine deck equipment under the name of Nantong Masada Ship Machinery Co., Ltd. Since licensing the deck crane technology, the company has steadily expanded production, and plans for 2012 aim for manufacture of 200 units. Last year the company changed its name to Jiangsu Masada Heavy Industries Co., Ltd., and today it is pushing vigorous business expansion and increasing production capacity.

Steering gears are machinery to operate ship's rudder by electric driven hydraulic pumps. MHI manufactured its first machine of this kind in 1935. Deck machinery consists of an anchor windlasses, which are used for anchoring and anchor hoisting, and a mooring winches, which are used to moor a vessel to a pier or berthing facilities. MHI manufactured its first unit in 1962. Through the years the company has built up a solid delivery track record in both products, and they have won high acclaim from customers for their high reliability, durability and excellent response.

Going forward MHI will further strengthen its aggressive marketing activities for Mitsubishi brand marine machinery as it maintains and further develops its solid collaborative relationship with Jiangsu Masada.

Note:Panamax refers to the size limit of ships able to travel through the present Panama Canal: 294 meters (m) in overall length, 32.3m in breadth and 12.0m in draft. Currently a project to expand the Panama Canal is under way.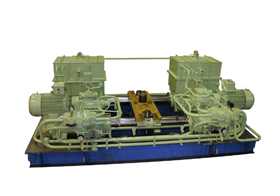 [Steering Gears]                                            [Deck Machinery]
Products Page
---
About MHI Group
Mitsubishi Heavy Industries (MHI) Group is one of the world's leading industrial groups, spanning energy, smart infrastructure, industrial machinery, aerospace and defense. MHI Group combines cutting-edge technology with deep experience to deliver innovative, integrated solutions that help to realize a carbon neutral world, improve the quality of life and ensure a safer world. For more information, please visit www.mhi.com or follow our insights and stories on spectra.mhi.com.