MHI Introduces New Series of High-rigidity Horizontal Boring Mills
Enabling High-speed, High-accuracy, High-power Milling
- Two New Models with 150 and 180 mm Boring Spindle Diameters -
Tokyo, February 28, 2012 - Mitsubishi Heavy Industries, Ltd. (MHI) has developed two floor-type horizontal boring mills, the "MAF150C" and "MAF180C," with 150 millimeter (mm) and 180 mm boring spindle diameters, respectively. The two machines in the new "MAF-C Series" have achieved the highest level of cutting performance in their class in both power and accuracy. This achievement has been enabled by adoption of the company's proprietary balance mechanism incorporating column tension bars, significant enhancement of the machines' structural rigidity, and increased spindle power output. The new machines will be presented at the "MHI Machine Tools Fair" a private preview show to be held at the company's Ritto Machinery Works in Shiga Prefecture, home of MHI's machine tool business operations, on March 7 and 8. The company will launch full-scale marketing of the machines at the fair, targeting their application in diverse fields.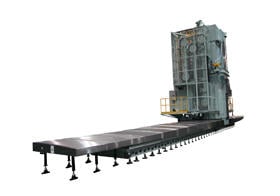 The MAF-C Series was developed with the goal of achieving the world's highest performance as fully remodeled machines to replace the existing MAF-RS Series, which has long enjoyed a solid reputation both in Japan and elsewhere. The two new machines employ a compact 420 mm square-shaped ram (Z-axis) that extends and retracts in two stages while supporting the boring spindle, enabling horizontal milling up to 2,250 mm deep within a narrow work space (1,250 mm ram length in Z-axis + 1,000 mm boring spindle length in W-axis). The powerful output of the machines' boring spindle motor is 55 kW (continuous), which is 1.8 times greater maximum power than previous models, enabling fast and stable milling. The new machines are capable of stable and powerful machining even at a workpiece height of 5,000 mm, using an optional vertical stroke saddle (Y-axis).

To achieve high rigidity in the new machines, major structures are cast-finished and hydrostatic guide surfaces are employed for all sliding surfaces. In particular, ram rigidity is enhanced through the adoption of ductile cast iron, which has a high elastic modulus equivalent to steel, and a hydrostatic slide-guide mechanism to constrain the ram's four faces. For the column, a double-walled structure is employed. Together these features enable the new machines to achieve more than 1.5 times higher rigidity - both static and dynamic - compared with earlier machines, and to realize enhanced heavy-cutting capacity at a high position in the Y-axis, which effectively improves productivity.

High-accuracy cutting is supported by a new "perfect balance mechanism" in which the tension bars are incorporated vertically into the column and horizontally in the ram to improve straightness, augmented by a mechanism to adjust the suspension force of the saddle. With these mechanisms, the new machines are capable of precise adjustment or compensation of bending of the column, bowing of the ram or slanting of the saddle, ensuring high-precision cutting and high-quality surface machining in horizontal boring of any part of a workpiece.

To further enhance machining efficiency, the MAF150C and MAF180C also realize the highest rapid traverse rate/spindle rotation speeds in their class: 15,000 mm/minute (mm/min) for the ram and boring spindle (Z- and W-axis), 20,000 mm/min for the column and saddle (Y- and X-axis), and a maximum spindle speed of 2,500 revolutions per minute (rpm). Times required for automatic tool changing and attachment changing have also be reduced to less than half: 30 and 60 seconds, respectively.

MHI expects demand for the MAF-C Series for use in shops that manufacture industrial machinery such as press machines, construction machinery, and advanced power generation equipment. Going forward, the company will further strengthen its aggressive marketing activities not only in Japan, Europe and the U.S., but also in the newly emerging economies, including China and India.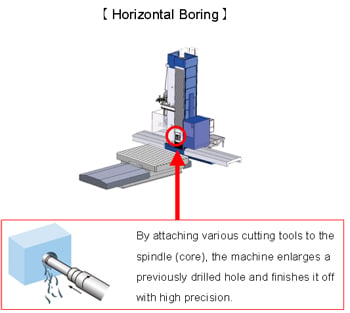 Major Specifications of MAF150C and MAF180C Horizontal Boring Mills
Boring spindle diameter: MAF150C: φ150 mm, MAF180C:φ180 mm
Ram size and shape: 420 x 420 mm, square
Spindle rotation speed: 6 - 2,500 revolutions per minute (rpm)
Spindle motor output (rated): 55 / 75 / 85 kW (continuous / 30 / 10 minutes)
Maximum spindle torque:5,200/7,080/8,000Nm:newton-meter(ditto)
Stroke: X-axis (column, crossfeed): 5,000 mm (extendable by 2,000 mm increments)*
           Y-axis (saddle, vertical): 3,000 mm (4,000 mm, 5,000 mm)*
           Z-axis (ram, longitudinal): 1,250 mm
           W-axis (boring spindle, longitudinal): 1,000 mm
Cutting feed rate: 1 -  10,000 mm/minute (mm/min)
Rapid traverse rate: X- and Y-axis: 20,000 mm/min
                                   Z- and W-axis: 15,000 mm/min
Feed thrust force (common to all axes): 40,000 newtons (N)
Machine size (width x depth x height): 4,600 mm x 10,500 mm x 7,500 mm**
Machine weight: 70,000 kilograms (kg)**
*   Figures in parentheses indicate machines using optional equipment.
** Figures indicate machine size/weight without any optional equipment.
Products Page
---
About MHI Group
Mitsubishi Heavy Industries (MHI) Group is one of the world's leading industrial groups, spanning energy, smart infrastructure, industrial machinery, aerospace and defense. MHI Group combines cutting-edge technology with deep experience to deliver innovative, integrated solutions that help to realize a carbon neutral world, improve the quality of life and ensure a safer world. For more information, please visit www.mhi.com or follow our insights and stories on spectra.mhi.com.