MHI's Low-speed Marine Diesel Engine Joint Venture in China
Marks Cumulative Production of 1 Million Horsepower
Tokyo, February 24, 2012 - Qingdao Qiyao Wartsila MHI Linshan Marine Diesel Company Ltd. (QMD), a company jointly established by Mitsubishi Heavy Industries, Ltd. (MHI) to which MHI licenses its marine diesel technology, has marked a cumulative 1 million brake horsepower (bhp) in the production of two-stroke low-speed marine diesel engines. The milestone has been achieved within three years of delivery of the JV's first engine in March 2009. A celebration took place today at QMD's premises in Qingdao in Shandong Province.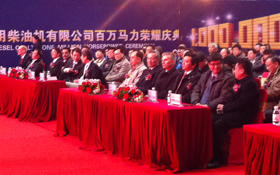 QMD was jointly established by MHI, China Shipbuilding Industry Corporation (CSIC) and Wartsila Corporation of Finland. Since the start of operations in January 2009, under license from MHI and Wartsila QMD has manufactured more than 60 medium and large-size Mitsubishi-UE and Wartsila model engines with cylinder bores up to 960 millimeters (mm). The engine that brought cumulative horsepower to the 1 million mark is a seven-cylinder Wartsila RT-flex82T.

QMD's business has been expanding rapidly in tandem with incremental boosts in engine production: from an initial 14 units (210,000 bhp) in 2009, to 19 units (320,000 bhp) in 2010, and 27 units (460,000 bhp) in 2011. For 2012, QMD plans to manufacture 36 units (750,000 bhp).

As an investor and licenser, MHI has strongly supported QMD in the areas of technology, marketing and procurement. In addition to periodically conducting technical seminars, the company has dispatched engineers to QMD to provide assembly and operational training for production of the Mitsubishi UE50LSE and UE43LSII engines. In marketing, MHI has been conducting prospective business talks in a quest to attract orders in collaboration with QMD.

Besides licensing its medium- and large-size UE engine technologies to QMD, MHI licenses related technologies to two other Chinese companies: to Yichang Marine Diesel Engine Co., Ltd. (YMD), a CSIC company, for production of small and medium-size engines; and to Zhejiang Yungpu Heavy Machinery Co., Ltd. (YUNGPU) for production of small engines. Through these licensing activities, MHI has established a structure capable of offering a broad range of UE engines to meet diverse engine power needs in China's rapidly expanding shipbuilding market.

Elsewhere in Asia, MHI has also licensed its UE engine technology to Vietnam Shipbuilding Industry Corporation (VINASHIN) and Bach Dang Diesel Engine Manufacturing Co., Ltd. in Vietnam. In total, the Mitsubishi UE engine licensee family currently encompasses these overseas companies and three Japanese counterparts: Akasaka Diesels Limited in Yaizu City, Kobe Diesel Co., Ltd. in Akashi City and Ube Techno Eng Co., Ltd. in Ube City.

Going forward MHI will continue to pursue strategic tie-ups in the low-speed marine diesel business as a way of strengthening its penetration of Mitsubishi UE engines into the global market.
---
About MHI Group
Mitsubishi Heavy Industries (MHI) Group is one of the world's leading industrial groups, spanning energy, smart infrastructure, industrial machinery, aerospace and defense. MHI Group combines cutting-edge technology with deep experience to deliver innovative, integrated solutions that help to realize a carbon neutral world, improve the quality of life and ensure a safer world. For more information, please visit www.mhi.com or follow our insights and stories on spectra.mhi.com.