Mitsubishi Minatomirai Industrial Museum Launches
Detailed, Fun Introduction to Tomorrow's Smart Communities
-- "Transportation" and "Daily Life Discovery" Zones Newly Revamped --
Tokyo, January 13, 2012 - On February 18 the Mitsubishi Minatomirai Industrial Museum will open two newly revamped exhibition areas: the "Transportation" and "Daily Life Discovery" zones. Both zones will in their respective ways now focus on introducing visitors to the exciting potential offered by tomorrow's smart communities: social units integrating a broad palette of optimized systems, including systems for achieving a stable balance between power generation and supply, for transportation management, for enhancing lifestyles, etc. The exhibits will provide easy-to-understand introductions to the advanced technologies that will support smart communities, toward realization of sustainable low-carbon societies that are also highly resilient to natural disasters. All visitors, from children to adults, will be able to experience the eco-friendliness, convenience and pleasure to be derived in the smart communities of the near future.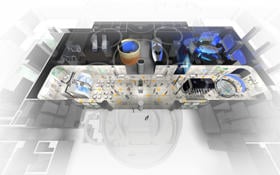 In the new Transportation Zone, visitors will be greeted by a diorama giving a bird's-eye view of a typical smart community - dubbed "Pittari City." The Japanese word "pittari" means "just right" or "perfect." In the "Discover! Pittari City" presentation, the "mayor" of Pittari City appears and explains the workings, roles and structure of his community's advanced systems: systems enabling a stable balance between energy demand and power supplies, resolving road traffic problems through the adoption of ITS (intelligent transport systems), etc. The presentations will be made in a way that invites easy understanding while offering the same enjoyment as playing a game. In the "Pittari Tram" exhibit, visitors will not only see the environmentally friendly transport system of the future, they will be able to experience the thrill of what it would be like to actually drive the tram through Pittari City.

In the revamped Daily Life Discovery Zone, visitors will be able to experience what everyday life will be like in a smart community. The focus of the exhibit will be the "Pittari Home," the basic unit for living in the community of tomorrow. In the "A Pittari Home for Everyone" presentation, visitors will be given an introduction to the next-generation energy-saving appliances, "smart meters" and other components essential to homes in a smart community, also including electric vehicles and storage batteries. Visitors will learn about these components' different roles amidst changes in time, weather conditions and seasons through quizzes and other fun formats. Another exhibition, "Teach me! Useful Machine," will explain how machine tools and other medium-lot products are closely connected to our daily lives in different situations.

The Mitsubishi Minatomirai Industrial Museum was opened in Yokohama in June 1994 with the aim of promoting exchanges with the local community and raising interest toward science and technology. As of August 2011 the total number of visitors had reached 1.8 million. Altogether there are six zones introducing Mitsubishi Heavy Industries' state-of-the-art technologies and products through presentations of actual machines, models, panels, etc. Besides the already mentioned Transportation and Daily Life Discovery zones, the other zones are Environment/Energy, Aerospace, Ocean and Technology Quest. Explanation on each exhibition is written in Japanese and in English.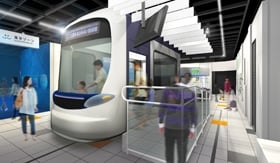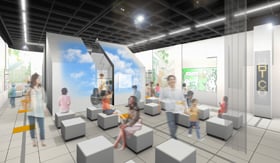 [Transportation zones]                                                   [Daily Life Discovery zones]
Outline of Mitsubishi Minatomirai Industrial Museum
Location:      Mitsubishijuko Yokohama Building, 3-1, Minatomirai 3-chome, Nishi-ku,  Yokohama-shi, 220-8401
Telephone:   +81-45-200-7351
Fax:               +81-45-200-9902
Website:       http://www.mhi.co.jp/museum/
Mobile site:   http://museum.mobille.mhi.co.jp
Access:        3-minute walk from Minatomirai Station on the Minatomirai Line
                   8-minute walk from Sakuragicho Station on the JR Negishi Line or Yokohama Subway Line
Open hours:   From 10:00 a.m. to 5:00 p.m. (admission until 4:30 p.m.) 
Closed Days:  Every Monday (following day if Monday is a national holiday) 
Specially designated closed days (2012): From February 13 through 17. March 6
                    *From February 7 through 12, the "Transportation" and "Daily Life Discovery" zones are closed for exhibition revamping.
Admission Fee: 300 yen for adults 
                          200 yen for junior and senior high school students 
                          100 yen for elementary school students 
                          100 yen discount per person for groups of 10 or more people 
                          Admission is free for persons 65 or older, and physically impaired persons and their attendants
                          (please show your ID or certificate). 
                          Admission is free for elementary school, junior and senior high school
                          and university field trip visits, provided a reservation is made at least a day in advance of the visit.

---
About MHI Group
Mitsubishi Heavy Industries (MHI) Group is one of the world's leading industrial groups, spanning energy, smart infrastructure, industrial machinery, aerospace and defense. MHI Group combines cutting-edge technology with deep experience to deliver innovative, integrated solutions that help to realize a carbon neutral world, improve the quality of life and ensure a safer world. For more information, please visit www.mhi.com or follow our insights and stories on spectra.mhi.com.