MHI Convenes "4th MHI Business Partners Conference"
Attended by 294 Suppliers
-- Focus on Reforming Supply Chain through Enhanced Cooperation --
Tokyo, November 25, 2011 - On November 25 Mitsubishi Heavy Industries, Ltd. (MHI) held its 4th MHI Business Partners Conference in Tokyo, attended by 294 partner suppliers. The meeting served to affirm MHI's commitment to advancing reforms to its supply chain through strengthened partnerships with its suppliers. At the conference, MHI explained its globalization activities and its initiatives to develop markets in the emerging economies. It also used the occasion to introduce examples of actual improvements achieved in cooperation with its business partners.
MHI's chief objective in hosting periodic conferences with its business partners is to allow the company's leaders to offer first-hand explanations of MHI's business plans, core policies and procurement stance in a quest to further strengthen ties of trust with its partners and promote their mutual prosperity.

The conference was opened by MHI President Hideaki Omiya, who spoke on strengthening the company's supply chain with its core partners. He delivered a progress report on MHI's current (2010) Medium-Term Business Plan launched last year and outlined the overall directions to be incorporated into its new (2012) Medium-Term Business Plan now under development with introduction targeted at next year. He also elaborated on the recent business environment, including impact both from the Great East Japan Earthquake and from the yen's ascent in value. Mr. Omiya stated that MHI aims to boost competitiveness throughout the entire value chain by pushing reforms both in-company and at its business partners, in order to succeed in global competition, and he asked those in attendance for their continued understanding and cooperation.

Under the current Medium-Term Business Plan outlined in 2010, MHI is striving to advance reforms responding to dramatic market changes and to achieve growth on global scale through a number of core strategies. These include transformation of business models more in line with customer perspectives, departing from in-house centricity, and strengthening of horizontally integrated functions in business management. With respect to structural reforms to the supply chain to reflect these concepts in the area of procurement, the company is directing efforts into selection and concentration of business partners, enhancement of communication and contracting channels, and expansion of concentrated and collaborative purchasing.

MHI has been hosting conferences with its business partners annually since 2008. Going forward, by implementing reforms to business processes in collaboration with its partners, the company looks to improve flows of information and goods as a way of realizing an agile and strong corporate structure to enable MHI's continued success in the global markets.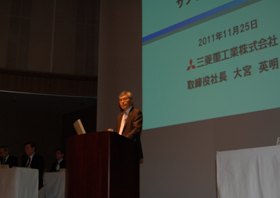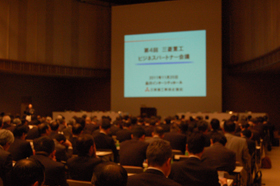 ---