MHI Establishes Heavy-duty Material Handling Equipment
Manufacturing Company in India, Jointly with Anupam Industries
-- Target on Enhanced Cost Competitiveness; Asia and MEA Markets Also in Sights --
Tokyo, November 10, 2011 - Mitsubishi Heavy Industries, Ltd. (MHI) and Anupam Industries Limited (Anupam) of India have jointly established Anupam-MHI Industries Limited, a company to manufacture heavy-duty material handling equipment, including quayside container cranes, in India. The creation of the new JV is aimed at aggressively exploring India's fast-growing market, with the Asian and Middle East and Africa (MEA) markets also in sights, by strengthening business collaboration between MHI and Anupam, to which MHI has already licensed related technologies, and further enhancing the cost competitiveness of their products. Plans call for the JV to establish two plants respectively overseeing production and assembly of structural components and to commence operation in the first half of 2012, having annual production capacity of 60 units.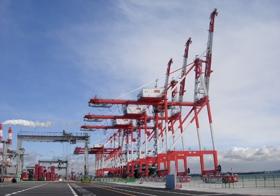 The new JV is capitalized in the amount of 1,880 million (188 crore) rupees, with Anupam holding 51% and MHI owning 49%. The head office is located in Anand, Gujarat, India's westernmost state. The company handles manufacturing, marketing and after-sales service for port-use loading and unloading equipment, including container cranes and unloaders; bulk material handling systems for transferring bulk products such as coal; and steel plant logistics systems, including overhead traveling cranes. Mr. Mehul Patel of Anupam serves as CEO of the new company.

Anupam, which was founded in 1973, is India's largest overhead crane builder. The company has completed numerous deliveries of various cranes to the steel, power, construction, cement, shipyard, fertilizer, petrochemicals, and heavy and general engineering sectors. In 2010 MHI licensed heavy-duty material handling equipment technology to Anupam. By combining MHI's product development and manufacturing expertise and engineering know-how relating to installation with Anupam's production bases and local marketing/service network, the two companies are engaging dynamically to develop their market in India. The two parties have discussed establishing a JV in the country from the beginning of their collaboration.

The heavy-duty material handling system and port cranes market is expected to grow significantly in Asian countries, including India, which views port facility improvement as one of the country's growth strategies, as well as in the Middle East, Africa and Latin America. Going forward MHI will continue to strengthen its aggressive marketing activities, leveraging the new JV with Anupam as a production base that will further enhance MHI's capability to respond to the needs of the global market.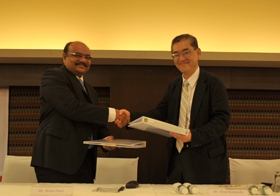 [Mehul Patel of Anupam (left) and Shuji Karasuda,
Senior General Manager of Industrial Machinery Business,
Technology & Solutions Davison, MHI,
shake hands at the signing ceremony.]
Related News
---
About MHI Group
Mitsubishi Heavy Industries (MHI) Group is one of the world's leading industrial groups, spanning energy, smart infrastructure, industrial machinery, aerospace and defense. MHI Group combines cutting-edge technology with deep experience to deliver innovative, integrated solutions that help to realize a carbon neutral world, improve the quality of life and ensure a safer world. For more information, please visit www.mhi.com or follow our insights and stories on spectra.mhi.com.