MHI to Intensify Gear Cutting Machine Marketing in the U.S.
And Aggressively Explore Demand for Overseas Production
-- Technological Expertise to be on Display at Gear Expo 2011 --
Tokyo, November 1, 2011 - Mitsubishi Heavy Industries, Ltd. (MHI) is poised to further intensify its marketing activities in the U.S. and aggressively explore robust demand from U.S. manufacturers associated with their moves toward establishing new plants overseas. Those moves come amidst rising momentum for plant and equipment investment among U.S. companies, especially in the automobile and construction machinery industries. As one of its initiatives in this direction, MHI will exhibit its machine tools at "Gear Expo 2011," a worldwide gear industry event to take place from November 1 through 3 in Cincinnati, Ohio. Two machines are to be exhibited: the "ZE40A," a gear grinding machine capable of high-precision machining and ideal for production of a wide variety of gears in small lots; and the "ST25," a gear shaping machine enabling easy machining of special gears.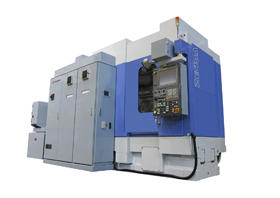 MHI, working through its local marketing bases, is looking to promote its advanced technologies and broad range of products accommodating needs in all aspects of high-precision gear manufacture. Marketing and servicing of the company's gear cutting machines and other machine tools are handled by the Machine Tool Division of Mitsubishi Heavy Industries America, Inc. (MHIA-MTD).

Today U.S. manufacturers are in recovery from the global recession that began in 2008. Companies in the auto industry in particular are actively ramping up plans to relocate or construct plants in the newly industrializing economies, including Mexico; and along with those moves, demand for gear cutting machines is expanding globally. Because decisions on investment plans are generally made in the U.S., MHI aims to probe global demand for its machines through MHIA-MTD. Meanwhile for the U.S. market, the company will introduce product lines meeting needs from job shops that in many cases undertake wide-variety, small-lot production.

The ZE40A, launched earlier this year, is MHI's latest universal gear grinding machine. It enables highly accurate post-heat treatment gear grinding for various sizes and types of workpieces by computerized control. With capability to machine gears of up to 600 millimeters (mm) in diameter, the ZE40A allows users to set even complex gear shapes by numerical control (NC).

The ST25 is capable of high-speed machining of up to 1,000 cutter strokes per second for pre-heat treatment of gears up to 250 mm in diameter. Setup time has been significantly reduced as the machine automatically sets all cutting conditions upon input of the machining data. The ST25 is also the first machine in the world to realize easy setting of helical angles through NC programming.

Gear Expo, which is organized by the American Gear Manufacturers Association (AGMA), is the world's largest exhibition of gear cutting machinery. The event, which takes place every two years, attracts manufacturers and users from all over the world, setting the scene for active business negotiations. As both machines set to be exhibited by MHI are suitable not only for gear machining for automobiles and construction machinery but also for use at job shops, the company is anticipating it will receive orders during the exhibition.

Since developing the world's first dry-cutting gear production system using no cutting fluid in 1997, MHI has led the industry with its diverse gear cutting machines and cutting tools for all gear cutting processes from rough machining to finish processing. All machines in its lineup deliver outstanding performance and accuracy while simultaneously addressing global environmental issues. Leveraging its position as a world leader in gear cutting machines, going forward MHI aims to propose its sophisticated machines supported by advanced technology to U.S. manufacturers. At the same time it will also seek differentiation and enhancement of its presence amid rising competition against inexpensive machines for rough processing available from manufacturers in the emerging economies.
---
About MHI Group
Mitsubishi Heavy Industries (MHI) Group is one of the world's leading industrial groups, spanning energy, smart infrastructure, industrial machinery, aerospace and defense. MHI Group combines cutting-edge technology with deep experience to deliver innovative, integrated solutions that help to realize a carbon neutral world, improve the quality of life and ensure a safer world. For more information, please visit www.mhi.com or follow our insights and stories on spectra.mhi.com.